Raiders Great Dies


Raiders Hall of Fame guard Gene Upshaw has died at 63, according to published reports. Upshaw, the longtime executive director of the NFL Players Association, passed Aug. 20 from pancreatic cancer at his home near Lake Tahoe, California. The NFLPA confirmed Upshaw's death Aug. 21.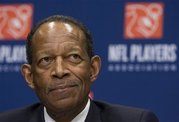 Upshaw, right, played 15 seasons in the NFL — all with a Raiders team that reached the Super Bowl three times, winning twice. A punishing blocker nicknamed "The Governor" by his teammates, the seven-time Pro Bowler was elected to the Pro Football Hall of Fame in 1987, his first year of eligibility.
"The Raider organization, the National Football League, and the world have lost a great man," Raiders managing general partner Al Davis said in a statement Aug. 21. "He is as prominent a sportsman as the world has known."
John Madden, who coached Upshaw when Oakland won its first Super Bowl in 1968, said in a statement: "Gene was a great player. He was an All-Pro. He was a Hall of Famer. If you look at the history of the NFL you're going to find out that he was one of the most influential people that the league has known. He did so much, not only for the players, but also for the owners, the teams, and the game of pro football.
"This is deeper than the head of the union passing away, and it's deeper than an ex-player. This is missing someone that is and was like family. It's a tough day for all of us."
NFLPA president and Tennessee Titans center Kevin Mawae told The Associated Press that Upshaw was diagnosed Aug. 17 after he fell ill and his wife took him to the hospital.
His stunning death ends a 25-year, post-playing career as union boss in which he led NFL players to riches despite being criticized in recent years over pension and health benefits for retired players. Upshaw worked closely with former NFL commissioner Paul Tagliabue on the league's last labor contract in 2006, avoiding a potential work stoppage.
The 2008 season's NFL salary cap reportedly is $116 million and the players are making close to 60 percent of the 32 teams' total revenues, as specified in the 2006 labor agreement. The players will be paid $4.5 billion this year, according to owners.
As great of player as Upshaw was, the Hall of Famer had a greater impact on the league as a contract negotiator. He ushered in an era of free agency and unprecedented financial growth for players and owners. He's one of the few African-Americans to lead a major union.
"Gene Upshaw did everything with great dignity, pride, and conviction," NFL commissioner Roger Goodell said in a statement. "He was the rare individual who earned his place in the Pro Football Hall of Fame both for his accomplishments on the field and for his leadership of the players off the field. He fought hard for the players and always kept his focus on what was best for the game. His leadership played a crucial role in taking the NFL and its players to new heights."

Upshaw, right, was selected by Oakland in the first round of the 1967 AFL/NFL draft. For years, Upshaw and future Hall of Famers Art Shell and Jim Otto were the catalysts of one of the league's greatest offensive lines. The 6-foot-5, 255-pound Upshaw was the first offensive lineman who played guard exclusively chosen for the Hall of Fame.
"He was the equal of owners in negotiations and made the league a better place for all players," Shell told reporters a day after Upshaw's death. "Playing alongside of Gene was an honor and a privilege. He was a pillar of strength and leadership for our great Raider teams."
"When I think about Gene Upshaw I think about No. 63 pulling," Raiders Hall of Fame cornerback Willie Brown said. "A lot of people called it Highway 63. That's what I remember and know about Gene. When he pulled around that left side, it's like a hurricane is coming through. He wiped out everything that was there."
Upshaw was named to the NFL's 75th Anniversary Team in 1994 and selected to the league's All-Decade Team of the 1970s. He played in 10 AFL/AFC title games and three Super Bowls (II, XI and XV). As a Raider, he ranks second in games played (217), consecutive games (207) and starts (207).
"He was and will remain a part of the fabric of our lives and of the Raider mystique and legacy," Davis said. "We loved him and he loved us. We will miss him."
In lieu of flowers, the Upshaw family has requested to send donations to:
Children's Hospital & Research Center Foundation in Oakland.
Telephone: 510-428-3814.
Note: You may also mail your memorial gift (check made payable to Children's Hospital & Research Foundation) directly to: Children's Hospital & Research Center Foundation 2201 Broadway, Suite 600 Oakland, CA 94612. (Please note on the check that your donation is in memory of Mr. Gene Upshaw).
Tahoe Forest Hospital Foundation – Cancer Program P.O. Box 2508 Truckee, CA 96160
God bless all.
May Gene rest in peace.
Contributing:
The Associated Press &
NFL Players Association
Photos credit:


The Associated Press

Updated: 09-03-2008

OAKLAND RAIDERS RAP

Archives | Court | Home | Links | Schedule | Tickets