Raiders Great Tatum Dies
Former Raiders safety Jack Tatum, best remembered for an infamous hit that paralyzed New England receiver Darryl Stingley in an NFL exhibition game, died in Oakland on July 27, 2010, according to published reports. He was 61.
The cause of Tatum's death reportedly was a massive heart attack. He had battled diabetes and other health problems for years. In 2003, his left leg below the knee was amputated because of diabetes.
At the time of his passing, Tatum reportedly was in an Oakland hospital waiting a kidney transplant.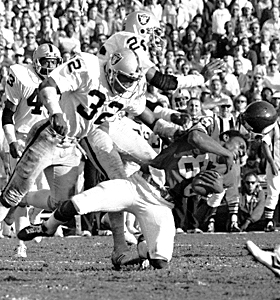 Tatum, right, was the enforcer in Oakland's "Soul Patrol" secondary of the 1970s that also included safety George Atkinson, cornerback Skip Thomas and Hall of Fame cornerback Willie Brown. Tatum was named to the Pro Bowl in three of his nine seasons with the Raiders. In 2009, NFL.com ranked him as the sixth most-feared tackler of all-time.
"Jack was a true Raider champion and a true Raider warrior. ... Jack was the standard bearer and an inspiration for the position of safety throughout college and professional football," the Raiders said in a statement.
The Stingley-Tatum collision happened Aug. 12, 1978, at the Oakland Coliseum. Stingley reportedly was cutting inside when he lunged for a pass which landed incomplete. Running full speed from the opposite direction, Tatum met Stingley while the receiver was off balance and leaning forward.
Stingley crumpled to the ground, his fourth and fifth vertebrae severed.
Through the years, Stingley would regain limited use of his body, but he spent the rest of his life in an electric wheelchair. He died in 2007.
In his third book, Tatum wrote, "I understand why Darryl is considered the victim. But I'll never understand why some people look at me as the villain."
Tatum was not penalized on the play and the NFL took no disciplinary action, but it did implement new rules on violent hits.
"He wasn't the type of person who was really out trying to maim anybody or hurt anybody," former Raiders teammate Brown told reporters July 27. "He was just doing his job. That's the way he played the game."
Tatum publicly showed no remorse for his combative playing style in a 1980 book, "They Call Me Assassin" and follow-ups "They Still Call Me Assassin: Here We Go Again" in 1989 and "Final Confessions of an NFL Assassin" in 1996.
Tatum reportedly never apologized to Stingley, and the two never spoke after the hit.
"I'm not going to beg forgiveness," Tatum told the Bergen County (New Jersey) Record in 2003. "That's what people say: You never apologized. I didn't apologize for the play. That was football."
Tatum reportedly said he tried to visit Stingley at an Oakland hospital shortly after the hit but was turned away by Stingley's family.
"It's not so much that Darryl doesn't want to, but it's the people around him," Tatum told the Oakland Tribune in 2004. "So we haven't been able to get through that. Every time we plan something, it gets messed up. Getting to him or him getting back to me, it never happens."
After starring for Ohio State under legendary coach Woody Hayes, Tatum was drafted in the first round by the Raiders in 1971. During his Oakland career, he started 106 of 120 games, had 30 interceptions and helped the Raiders win the Super Bowl at the end of the 1976 season. The New Jersey native played his final season with the Houston Oilers in 1980, his final game ironically a playoff loss at Oakland.
Tatum was also involved in "The Immaculate Reception" in the Raiders' 1972 playoff loss to the Pittsburgh Steelers.
With 22 seconds left, Tatum jarred loose a desperation pass from Terry Bradshaw to Frenchy Fuqua with a trademark hit. The ball ricocheted into the arms of Steelers running back Franco Harris, who never broke stride and ran 42 yards for the winning touchdown.
"Surely, Jack should be in the Hall of Fame," said Brown, a teammate of Tatum's for eight seasons with the Raiders. "There's no question, no doubt about it. It's unfortunate it looks like that he will probably not get in now after his death, which I hate to see. He should have got in a long time ago.
"There are so many things that he has done that overshadowed some of the things that people see. When you're playing back in the middle you have one job to do, that's stop the long pass right down the middle. He did that better than anybody that I could think of."
Contributing: The Associated Press & Los Angeles Times
Photo: Minnesota's Sammy White loses his helmet as Jack Tatum (32) hits him during Super Bowl XI on Jan. 9, 1977. Credit: Richard Drew/Associated Press.
Updated: 07-27-2010
OAKLAND RAIDERS RAP
Archives | Court | Home | Links | Schedule | Tickets