Reports: Sapp Retires


Defensive tackle Warren Sapp reportedly is ending his National Football League playing career after 13 seasons, the final four with the Raiders. He informed Raiders officials of his decision Jan. 3, according to published reports.

Sapp retires with 96.5 sacks, second to John Randle's 137.5 among NFL defensive interior linemen. Sapp finished the 2007 season with 50 tackles, two sacks and two forced fumbles.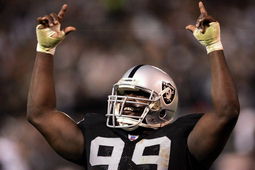 Sapp, right, developed into one of the NFL's elite at his position during nine seasons with Tampa Bay, highlighted by a Buccaneers victory in Super Bowl XXXVII over Oakland in January 2003. He had 77 of his career sacks with the Bucs, second most in franchise history behind Hall of Famer Lee Roy Selmon.
Sapp, 35, was NFL Defensive Player of the Year in 1999 and was named to the NFC Pro Bowl team each season from 1997 to 2003. He had four seasons with at least 10 sacks, the last coming in 2006 when he led defensive tackles with 10.
Sapp, who had a career-high 16.5 sacks in 2000, helped popularize the term "three-technique" for a defensive tackle who plays on the outside shoulder of the guard or in the "three" gap.
"If you were going to pick a football team and play on a Thursday, Friday, Saturday, Sunday or whenever, and it came time for you to pick your three-technique, you were taking me with you," Sapp told MediaNews on Jan. 3. "That's all I ever wanted from this game."
Sapp, right, began his NFL career with the Buccaneers in 1995, where he helped turn one of the league's perennial losers into a Super Bowl champion following the 2002 season. Tampa Bay had only three winning seasons in 19 years before Sapp arrived.
Led by Sapp, linebacker Derrick Brooks and safety John Lynch, the Bucs went to the playoffs five times over six seasons, culminated by a 48-21 Super Bowl victory.
Sapp joined the Raiders as a free agent after his contract expired with the Bucs following the 2003 season. In Oakland, he had 19.5 sacks over four seasons while the team went 15-49 under three head coaches and had four last-place finishes.
Sapp starred at the University of Miami before being selected 12th overall by the Bucs during the 1995 draft. Despite being ranked among the top defensive players available, he reportedly slipped in the first round after testing positive for marijuana at the scouting combine.
His NFL career had episodes of controversy.
In 2002, he nearly ended the career of Packers offensive tackle Chad Clifton with a vicious hit while trying to throw a block after an interception. Then-Green Bay coach Mike Sherman confronted Sapp on the field after the game, calling it a dirty play.
Sapp was fined $50,000 for bumping an official in 2003 and was fined $75,000 after being ejected following three personal fouls in the penultimate game of his playing career against Jacksonville on Dec. 23.
Updated: 1-3-2008
Contributing: The Associated Press
OAKLAND RAIDERS RAP
Archives | Court | Home | Links | Schedule | Tickets