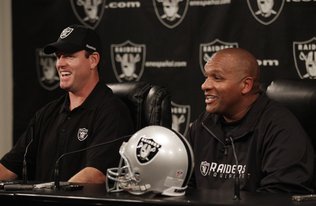 Raiders Trade For Palmer


The Raiders on Oct. 18 acquired quarterback Carson Palmer from the Cincinnati Bengals in exchange for a 2012 first-round draft pick and a conditional 2013 second-round pick. The 2013 choice reportedly becomes a first-round pick if the Raiders win a playoff game this season or in the 2012 season.

Palmer, 31, reportedly passed a physical and restructured his contract to make the trade official before the league trading deadline at 1 p.m. (Pacific) on Oct. 18.

The Raiders (4-2) became desperate for a quarterback after Jason Campbell broke his right clavicle during a win over the Cleveland Browns on Oct. 16. Oakland was left with veteran Kyle Boller as the starter and rookie Terrelle Pryor. Campbell, who reportedly had surgery on Oct. 17, is expected to be sidelined at least six weeks.

"It's been a whirlwind," Palmer told reporters at a news confernce at Raiders headquarters in Alameda, Calif., hours after the trade was finalized. "I understand what's expected of me. I know what playing quarterback is about, and it's about winning. I want to come in and contribute and do whatever I can to help this team."

Said Raiders coach Hue Jackson: "This isn't about the numbers. This is about the person. I know his heart, I know his passion, I know his dedication to the game. ... I'm not concerned about Carson's past. I never would be. That doesn't even enter my mind, because I know, with me and him and the rest of this staff and football team, where we're going to go. And that's the most important thing."

Palmer, right, hasn't played since the end of last season when he tied a career high with 20 interceptions. The former USC star decided he wanted out of Cincinnati, which has only two winning records the last 20 seasons. During the offseason, the nine-year veteran threatened to retire if the Bengals didn't trade him. Entering the 2011 season, Palmer had four more years left on his contract with Cincinnati.
Bengals owner Mike Brown repeatedly insisted he wouldn't consider Palmer's request for a trade because he didn't want to reward the 2002 Heisman Tropy winner for holding out. Brown changed his mind after the Raiders dangled two potential first-round picks.
Brown told Cincinnati media that the play of rookie quarterback Andy Dalton was a key factor in trading Palmer for the right offer.
"Several factors made us believe that trading Carson to Oakland was the best move for the Bengals at this time," Brown said in a statement. "The principal development has been Andy Dalton, who has shown himself to be one of the best and most exciting young quarterbacks in the NFL."
Palmer's renegotiated contract with the Raiders reportedly includes a $2.5 million guaranteed deal for the rest of this season, $12.5 million with $5 million guaranteed in 2012, $13 million in 2013 and $15 million in 2014. Under his old deal with the Bengals, Oakland's new QB was scheduled to earn $11.5 million this season. Campbell, who becomes a free agent at the end of this season, reportedly will earn $4.1 million in 2011.

Palmer, right, has a history with Jackson, who was his offensive coordinator for two years at USC and the wide receivers coach for three seasons in Cincinnati. Jackson was with the Bengals as their wide receivers coach when Palmer had his best season in 2005 when he threw for 3,836 yards with 32 touchdown passes and a 101.1 rating while leading the team to an AFC North title.
"I never hesitated because I knew exactly what I was getting," Jackson said. "I know what we're putting on this football team."
Palmer told reporters he had been working out in Southern California, trying to stay in shape and throwing to former teammate T.J. Houshmandzadeh and high school players. He said he first learned of being traded to Oakland when he received a text message at 4 a.m. Oct. 18.
"There was a number of times that there were teams approaching the Bengals and it didn't work out, so it was a very difficult time," said Palmer, the top overall pick in the 2003 NFL draft. "I didn't know what was going to happen. I didn't know what was around the next turn, the next week, the next month. So there was a lot of confusion and I really didn't know what was next.
"I've worked out, I've continued to stay focused on football and keep my mind on football. I haven't been playing it for six weeks, but my mind has been in it. I'm ready to go and I'm excited."
Jackson wouldn't say if Palmer would start against the visiting Kansas City Chiefs on Oct. 23
Over the past two seasons, Palmer completed 61.2 percent of his passes for 7,064 yards, 47 touchdowns, 33 interceptions and a passer rating of 82.9 while having a 14-18 record. Those numbers are comparable to what Campbell has done since the start of the 2009 season.
During a 2005 playoff game against Pittsburgh, Palmer injured his knee and needed reconstructive knee surgery. He partially tore a ligament and tendon in his passing elbow during the 2008 season, but led the Bengals to another division title the following season. The Bengals had a 4-12 record in the 2010 season.
In eight seasons with the Bengals, Palmer threw for 22,694 yards, 154 touchdowns and 100 interceptions, completed 62.9 percent of his passes (2,024 of 3,217) and had an 86.9 efficiency rating.
Palmer passed for 3,970 yards and 26 touchdowns last season. He was voted to the Pro Bowl for the first time in 2005, when he led Cincinnati to an 11-5 record. He reached 4,000 passing yards in each of the next two seasons. The Fresno, Calif. native had a 46-51 record as the Bengals' starter.
The Oct. 18 trade leaves the Raiders with picks only in the fifth and sixth rounds in the 2012 draft.
Last week, they traded a seventh-round selection to the Seattle Seahawks for linebacker Aaron Curry, a former No. 4 overall pick in 2009. The Raiders traded their second-rounder during April's draft to New England for the picks to draft offensive lineman Joe Barksdale and running back Taiwan Jones. They used their third-rounder to take Pryor in the supplemental draft in August. They traded their fourth-rounder in 2010 to get Campbell.
"I know a lot of people think we've mortgaged the future of the organization," Jackson said. "I don't see it that way. I mean, I don't think you ever mortgage the future of an organization when you're putting a real big-time franchise quarterback on your team."
Oakland is expecting to get compensatory picks after losing cornerback Nnamdi Asomugha, tight end Zach Miller, guard Robert Gallery, linebacker Thomas Howard and quarterback Bruce Gradkowski in free agency.
Updated: 10-18-2011
Contributing: The Associated Press
Photo caption/credit:
New Raiders QB Carson Palmer, left,
and Oakland coach Hue Jackson speak
at a news conference Oct. 18.
By Marcio Jose Sanchez/The Associated Press
Carson Palmer mug
NFL.com
Carson Palmer action
The Associated Press/2010
Updated: 10-18-2011
OAKLAND RAIDERS RAP
Archives | Court | Home | Links | Schedule | Tickets