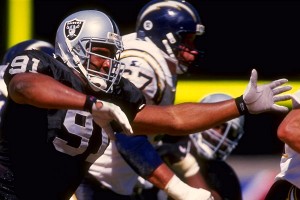 McGlockton Passes Away


Former Raiders defensive tackle Chester McGlockton reportedly died early Nov. 30. He was 42. A cause of death has not been determined, according to published reports.

The Raiders selected McGlockton with the 16th overall choice in the 1992 NFL draft. In his third NFL season, the former Clemson All-America made his first of four straight Pro Bowl appearances — 1994, 1995, 1996, 1997. His best season came in 1994, when he had a career-high 9.5 sacks with three forced fumbles and 48 tackles.

McGlockton also spent time with Kansas City (1998-2000), Denver (2001-2002) and the New York Jets (2003). The Whiteville, North Carolina native had 51 sacks, 4 interceptions and 555 tackles during his 12 NFL seasons.

Former teammate and current Raiders assistant coach Steve Wisniewski told reporters on Nov. 30: "I just can't express how tragic it is to lose someone like that at 42."

After his playing career, McGlockton, right, returned to college and earned his undergraduate degree from Tennessee-Martin in 2010. He lived in San Ramon, Calif. with his wife and two children while being an assistant coach at Stanford University. When he joined Stanford, McGlockton developed a friendship with then-head coach Jim Harbaugh, a former Raiders assistant coach.
"Chester's been a very close and dear friend over the last four years," Harbaugh, now in his first season as 49ers' head coach, told reporters on Nov. 30. "It was a shock. Just sad, sad today with the news of his passing. Chester was a great guy, good man, doing the right things. … He was helping a lot of people. We're really going to miss him. To say he was coming into his own as a coach would be understating it. He had already blossomed. He was so positive with the players and with the other coaches. He always had coaching advice or spiritual advice, a smile for you."
Detroit Lions defensive coordinator Gunther Cunningham told reporters on Nov. 30:
"I had the privilege to coach Chester with both the Raiders and the Chiefs and he was a quality person and a consummate pro — everything you could ever want in a football player. I will forever cherish the opportunity to have coached him."
During his Raiders career, McGlockton earned a reputation as an elite defensive lineman who thrived despite constant double-team blocking. Near the end of his Raiders career, he seemed disenchanted reportedly because he never received a lucrative contract extension. At 6-foot-4, 235-pounds, McGlockton had 39.5 sacks while starting 80 of 90 games with the Raiders.
"He matured in his years beyond football and looked back with a sense that he could have done more at times," said Wisniewski, an eight-time Pro Bowl guard who played with McGlockton from 1992 to 1997. "He was hampered by injuries and con ntract issues. But when he wanted to play, no one could block him. He had that ability to be a dominant force like a Mean Joe Greene. He was as good as they come."
Contributing: The Associated Press
&
Oakland Tribune
Updated: 11-30-2011
Top photo credit:
Mike Powell/Getty Images
OAKLAND RAIDERS RAP
Archives | Court | Home | Links | Schedule | Tickets