Gruden Bolts Raiders
In the early hours of Feb. 18, 2002, Jon Gruden's coaching career made a sharp turn toward Tampa, Fla.
After negotiations between Raiders owner Al Davis and Tampa Bay Buccaneers executive vice president Joel Glazer, the Bucs agreed to give the Raiders four high draft picks and $8 million over three years as compensation for releasing Gruden from the final year of his contract.
The Bucs, searching for a head coach for over a month, signed Gruden to a five-year, $17.5 million contract ($3.5 million a season), according to Internet and published reports. He was scheduled to earn $1.4 million in 2002 with the Raiders.
Gruden, 38, ranked among the league's lowest paid head coaches during his four years with the Raiders.
The Raiders said the Bucs will give up first- and second-round draft picks this year, a No. 1 in 2003 and a second-round pick in 2004. Oakland now has 10 draft choices in the first two rounds over the next three years.
The Bucs completed the deal for Gruden (right) hours after the sons of team owner Malcolm Glazer negotiated with San Francisco 49ers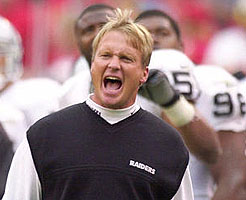 coach Steve Mariucci. The Bucs reportedly offered the 49ers first- and third-round picks in 2002 and second- and third-round choices the following year for Mariucci, who has two years remaining on his contract.
The Raiders' Davis, speaking at a news conference at the team's training complex in Alameda (Calif.) on Feb. 18, said he received a telephone call from Joel Glazer the previous evening at 10 p.m. After the two men brokered a compensation package, Gruden and his representatives quickly hammered out a contract with the Bucs.
Davis said the deal was finalized between 2:30 a.m. and 3 a.m. Pacific time.
"We let Jon make the decision," Davis said. "If he wanted to go, we'd let him, provided we got our demands."
Davis said Gruden's personal ties to Tampa impacted the coach's decision to join the Bucs, who have advanced to the playoffs four of the past five seasons. His parents live there and a younger brother, Jay, is the head coach of the Arena League's Orlando franchise. Jim Gruden, Jon's father, was a scout and assistant coach with the Bucs in the 1970s and is currently a regional scout for the 49ers.
Davis (right)

revealed to reporters he offered Gruden a three-year, $9.5 million contract extension during the 2001 season. Davis said Gruden wanted to focus on the team's playoff run instead of addressing his contract situation. "Jon said ... we'd get it done after the season, that he and (club senior assistant) Bruce Allen would work it out." Two days after the Raiders suffered a season-ending 16-13 playoff loss at the New England Patriots, Gruden's agent, Bob Lamonte, told Bay Area reporters that his client would not sign a contract extension.
Gruden signed a three-year contract in 1998 with a club option for two more years. Rather than negotiating a new deal with a hefty raise reflecting the current market, the Raiders exercised Gruden's option after he led the team to the 2000 AFC West title, a 12-4 record and an appearance in AFC Championship game.
Gruden, the NFL's youngest head coach, had a 38-26 regular-season record in four years with the Raiders. Despite winning a second straight division title in 2001, Oakland lost its final three regular-season games en route to a 10-6 record and was eliminated by eventual Super Bowl champion New England in the second round of the American Conference playoffs. Gruden is 2-2 in the postseason.
Gruden replaces Tony Dungy, who was fired Jan. 14. After Bill Parcells turned down the Bucs, Tampa Bay general manager Rich McKay contacted Davis around Super Bowl week to ask permission to talk with Gruden. Davis reportedly wanted four or five first-round draft picks and $10 million to release Gruden from his contract with the Raiders. McKay considered the compensation demands too high and focused on other candidates.
The Glazer sons then rejected McKay's recommendation to hire former Baltimore Ravens defensive coordinator Marvin Lewis. The 49ers' Mariucci reportedly was at least the eighth candidate the Bucs contacted after firing Dungy. He sought a seven-year, $42 million package as coach/general manager, according to published reports.
Until Gruden was hired, the Bucs were the laughingstock of the NFL in their pursuit of Dungy's replacement.
"We were determined not to let outside pressures derail us from our goal to find the best person to coach the Buccaneers," Bryan Glazer, team executive vice president, said in a statement. "That person is Jon Gruden, the finest young mind in the game. We took our time and got the man we wanted."
Davis told reporters he wants a new coach by March 1, when the 2002 free-agent signing period begins. All of Gruden's former assistant coaches in Oakland are under contract for 2002. Offensive coordinator Bill Callahan is a candidate as Gruden's successor, Davis said.
Updated: 2-19-2002
OAKLAND RAIDERS RAP
Archives | Court | Home | Links | Schedule | Tickets