OAKLAND RAIDERS RAP
Bye, Bye, George
The Raiders trumpeted the arrival of Jeff George. They announced his acquisition at a lavish news conference on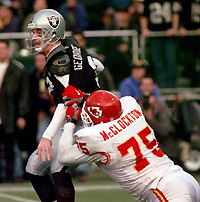 Feb. 15, 1997. Team owner Al Davis and then head coach Joe Bugel raved about the superior passing skills of their new quarterback. The salient fact that George had a tarnished reputation with his two previous NFL teams in Indianapolis and Atlanta was of little consequence on this self-proclaimed glorious day in Silver and Black history. Two years later, George has been shown the door. Again. He lasted long enough with the Raiders to demonstrate his shortcomings, football and otherwise.
During the opening weeks of the 1998 season, he struggled with the read-and-react passing game implemented by new Oakland coach Jon Gruden. George can launch a rocket to a receiver 60 yards down the field, but he's a pocket passer who lacks mobility to avoid the rush.
Gruden's version of the West Coast offense requires his quarterback to make short and intermediate throws accurately in the face of fierce blitzes. Even through George missed all or parts of 12 games because of a torn groin during the regular season, Gruden determined the Raiders needed someone else as their future quarterback.
George's fate may have been sealed the morning after Oakland's home loss to Washington in late November. That's when The Beleaguered One announced on his KNBR radio showed that in the best interests of the team he would sit out the remainder of the season because of the groin injury. The quarterback made this proclamation before consulting Gruden or team doctors.
In essence, George quit on the season, quit on his teammates who were still fighting for the playoffs despite being ravaged by injury.
After this selfish stunt via the airwaves, Gruden knew that George lacked the mettle to lead the Raiders to a Super Bowl championship. Ironically, George returned to the lineup in the 1998 regular-season finale against Kansas City. He came off the bench late in the third quarter and rallied the Raiders with a game-tying touchdown pass, although the Chiefs eventually won 31-24.
Throughout his NFL career, George has been embarrassed by juvenile behavior. Remember his absurd victory lap in the Georgia Dome following an Oakland win over Atlanta in September 1997? The season before in the same stadium as the quarterback of the Falcons, George argued vehemently with Atlanta coach June Jones on the sideline during a nationally televised game against Philadelphia.
An athlete earns respect from his peers through performance and example. George suffers from the same Me-First attitude as former Raiders Pro Bowl defensive tackle Chester McGlockton. Like the brooding McGlockton, the Raiders were wise to distance themselves from George.
Published: 2-19-99
OAKLAND RAIDERS RAP
Archives | Court | Home | Links | Schedule | Tickets