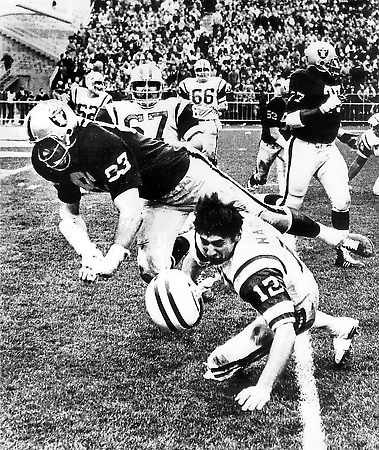 Obituary: Ben Davidson


Ben Davidison, a colorful and pugnacious defensive end who starred for the Raiders during the 1960s, has died. He was 72.

Davidson succumbed July 2, according to published reports. He reportedly was being treated for prostate cancer. Former Raiders coach John Madden on July 3 confirmed Davidson's passing on KCBS radio in San Francisco.

Davidson spent 11 seasons in pro football, starting with the Green Bay Packers and Washington Redskins in the National Football League before joining the Raiders in the rival American Football League in 1964.

With a handlebar mustache and contentious playing style, the 6-foot-8 Davidson helped define the Raiders' renegade image under then general manger/coach Al Davis.

"Ben was the epitome of what a Raider is: loyal, service to the community and a big persona," former Raiders coach Tom Flores told the Oakland Tribune on July 3. "He did things in his own style and had a charisma of his own."

"He was a tough, gutsy ballplayer, team oriented with enough meanness in him to be feared and enough talent to be effective."

One of Davidson's signature hits reportedly came on Nov. 1, 1970, against rival Kansas City. The Raiders trailed 17-14 late in the fourth quarter when Chiefs quarterback Len Dawson ran for a first down to seemingly seal victory.

As Dawson dropped to the turf, Davidson dived into him with his helmet. In retribution, Chiefs wide receiver Otis Taylor jumped on Davidson and a bench-clearing brawl ensued.

The play, however, was negated by offsetting penalties and the Chiefs had to punt. Oakland tied the game on a field goal by George Blanda with 8 seconds remaining and that proved to be the difference in the AFC West race. The Raiders won the division with a record of 8-4-2, while the Chiefs missed the playoffs at 7-5-2.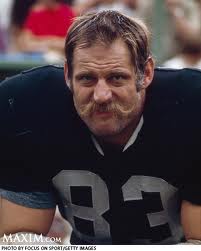 Davidson, right, didn't play football until attending East Los Angeles Community College. He then enrolled at the University of Washington, where he helped the Huskies win Rose Bowls in 1960 and 1961.
He was a fourth-round NFL draft pick by the New York Giants in 1961. He played his rookie season with Green Bay, winning the NFL championship with coach Vince Lombardi and the Packers in 1961. He then spent two seasons with the Redskins before being signed by the Raiders in Davis' second season as coach in Oakland.
Davis, a former USC assistant football coach, reportedly tried to recruit Davidson before the Los Angeles native committed to the University of Washington
Davidson was a second-team Associated Press All-AFL selection in 1965 and first-teamer in 1967.
"He was just a big, tall, skinny guy that Davis took a chance with," Flores said. "He was able to rush the passer and worked hard to get bigger and stronger, with the character and personality. He was always that way."
After his playing career, Davidson became a successful actor and did Miller Lite beer commericals with Madden and comedian Rodney Dangerfield.
"I was a geography major in college, so I love to travel," Davidson told the Milwuakee Journal-Sentinel in 2011. "Greenland, Guam, Korea, Panama, Honduras - you name it. We signed autographs and met people and drank beer. I made more money doing that than playing pro football."
According to Wikipedia.com, Davidson appeared in a few films including The Black Six, M*A*S*H and Conan the Barbarian. He portrayed Porter the Bouncer in the highly regarded pornographic film Behind the Green Door, featuring Marlyin Chambers. He also played a convict football player in Necessary Roughness.
"I've been very lucky in life," Davidson told the Journal-Sentinel. "One thing I've always said is get on a good team and play hard. I've had a lot of fun along the way, and I've tried to give back for getting paid to play a kid's game."
Davidson reportedly is survived by his wife, Kathy, and their three daughters, Jan, Dana and Vicki.
Photo caption/credit:
Ben Davidson (83) delivers a hit to
New York Jets QB Joe Namath (12)
during a 1967 game.
By Russ Reid/Oakland Tribune
Contributing: Oakland Tribune & The Associated Press
Updated: 07-03-2012
OAKLAND RAIDERS RAP
Archives | Court | Home | Links | Schedule | Tickets