Cable Retained


The Raiders named Tom Cable as head coach Feb. 3, removing the interim label from his title more than five weeks after the 2008 season ended.

At a Feb. 4 news conference announcing Cable's selection as the franchise's 16th head coach, Cable and Raiders managing general partner Al Davis predicted a promising future for a team that has lost 72 of the past 96 games.

Wearing a dark suit and tie, the 44-year-old Cable, right, told reporters at the Raiders' Alameda, Calif. headquarters: "The Oakland Raiders are back. We're going to go win football games and we're going to be a playoff team. You hear me? I'm not afraid to say that. All that negative aura; it's done. It's our time now."
Sitting alongside Oakland's fourth head coach in five seasons, the 79-year-old Davis said:
"I know where we are. We can win the (AFC West) division. We have to do a little bit more to win the division but winning Super Bowls, no, I donít think this team is ready yet. We may be a year away from putting another good group together."
Cable, right,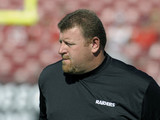 went 4-8 as Oakland interim head coach after replacing Lane Kiffin, who was fired Sept. 30. Oakland finished 2008 with a 5-11 record, its sixth consecutive losing season. Cable, hired in 2007 as Oakland offensive line coach, led the Raiders to victories over Houston and Tampa Bay in their final two games.
The five victories equal the most wins by the Raiders in any season since 2003.
Oaklandís strong finish and Cableís ability to keep his players focused during the seasonís final 12 games reportedly were factors in the Davis retaining Cable.
Along with Cable, Davis reportedly interviewed Green Bay Packers assistant head coach coach Winston Moss (a former Raiders player) and New York Giants offensive coordinator Kevin Gilbride for the Raidersí coaching position.
Davis told reporters Feb. 4 that Cable's passion and longtime admiration of the Raiders helped win over the franchise's patriarch.
"He took over a team last year in the middle of the season, and I thought he did well," Davis said. "There were peaks and there were valleys there. There were things that came up from time to time, but he's young. He loves it. He loves football, and I admire the passion for it, where I'm not so sure all the other (former Raiders coaches) had that passion."
Cable, a Merced, Calif. native, said:
"As I said when this became an interim job in October, this is my dream. This was my team growing up. There's not anything in the world I'd rather be doing. I'm honored to have the opportunity. I'm very honored by what this football team did in the last six weeks of the regular season and where we have grown as a football team, and I know right now where we need to go to get to the playoffs."
Cable becomes the fifth Raiders coach since 2003. He follows Bill Callahan (2002 & 2003), Norv Turner (2004 & 2005), Art Shell (2006) and Kiffin (2007 & 2008).
Only Jon Gruden (2000 & 2001) and Callahan (2002) won more than eight games in a season as Raiders coach since 1995.
Cableís only previous head coaching experience was at the University of Idaho, where he had an 11-35 record in four seasons (2000-2003). He spent 2006 as the Atlanta Falcons offensive line coach following two seasons as UCLAís offensive coordinator.
Contributing: NFL.com &
Contra Costa Times
Updated: 02-04-2009
OAKLAND RAIDERS RAP
Archives | Court | Home | Links | Schedule | Tickets