OAKLAND RAIDERS RAP
Taps For Bugel
Joe Bugel is the first Raiders head coach fired by Al Davis after only one season. Hold the sympathy cards, please. Bugel, a decent man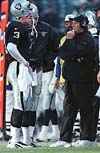 and proven offensive line coach, should give thanks for being commissioned to leave Da Silver and Bleak.
The tumultuous 1997 season was lowlighted by poor performances and disgruntled players. While Bugel deserved to be dismissed based on wins and loses alone, his coaching (or lack of thereof) wasn't the only reason for the worst record by the Raiders in 35 years.
The meddling Davis and a cast of underachievers led by defensive tackle Chester McGlockton also must shoulder the blame for an abysmal 4-12 record. Consider these sobering facts:

The Raiders have advanced to the playoffs only three times in the past 12 years.

They have lost 27 of their last 38 regular-season games.

They have had three different head coaches (Art Shell, Mike White and Bugel) since 1994.
Team Chaos has shown no signs of slowing down. This once proud franchise is a mess. And Whipping Boy Bugel is the latest scapegoat for The Man Who Would Be King. Just lose, baby!
Published: 1-31-98
OAKLAND RAIDERS RAP
Archives | Court | Home | Links | Schedule | Tickets