<! --BEGIN LEFT SIDE NAVIGATION-->

Archives
---
Oakland Raiders NFL Jerseys
---
<!BEGIN MAIN BODY -->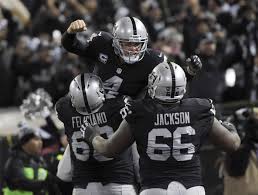 Raiders 2016 Season Preview
Oakland Raiders At A Glance

Owner: Mark Davis.

General Manager: Reggie McKenzie

Head Coach: Jack Del Rio, 2nd season.

2015 Record: 7-9, third AFC West

Key Additions: OL Kelechi Osemele, LB Bruce Irvin, CB Sean Smith, S Reggie Nelson.

Key draft picks: S Karl Joseph, DE Shilique Calhoun, QB Connor Cook, RB DeAndre Washington, DL Jihad Ward, G Vidal Alexander

Key Losses: FS Charles Woodson, DE Justin Tuck, DE Benson Mayowa, G J'Marcus Webb, LB Curtis Lofton.

2016 Season Opener: at New Orleans Saints, Sept. 11, 10 a.m. (Pacific), CBS

The Skinny:

The Raiders try to end a dubious streak of missing the playoffs for 13 straight seasons. Led by Derek Carr and Khalil Mack, Oakland has its most talented roster since going to the Super Bowl at the end of the 2002 season — the last time the Raiders had a winning record.

Players To Watch

QB Derek Carr — In only his second NFL season, the former Fresno State star passed for 3,987 yards and 32 touchdowns with 13 interceptions in 2015. He had eight TDs with seven picks in the Raiders' final five games after throwing for 24 scores and only six picks in the season's first 11 games.

DE Khalil Mack — Defensive dynamo during his sensational 2015 season, contributing 77 tackles, 15 sacks, 66 other quarterback pressures, 23 tackles for losses, two forced fumbles and five batted passes. The former University of Buffalo star has 19.0 sacks through his first 32 games in the NFL.

WRs Amari Cooper and Michael Crabtree — The Raiders have their most productive receiving duo in over a decade in 2015 with Cooper (72 catches, 1,070 yards, 6 TDs) and Crabtree (85, 922, 9). Cooper, slowed by a foot injury late in the season, is Oakland's first 1,000-yard receiver since Randy Moss had 1,005 yards in 2005.

OL Kelechi Osemele, LB Bruce Irvin and CB Sean Smith — The Raiders were major movers on the first day of the 2016 NFL free agent signing period by consumating deals with Osemele (Ravens), Irvin (Seahawks) and Smith (Chiefs). Oakland doled out a reported $130.5 million combined for the highly regarded trio. Osemele is expected to start at right guard while Smith and Irvin are being counted on to be defensive catalysts.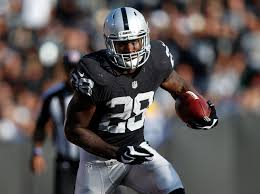 RB Latavius Murray — Despite rushing for 1,066 yards (second AFC) in his first full season as a starter, his production slipped late in games and during the second half of the season. Murray, right, averaged a mere 2.2 yards per carry during the fourth quarter last season. The former Central Florida star also was more effective in the first half of the season, averaging 4.8 yards per rush in the first eight games compared to a 3.3 yards clip in the final eight contests. Oakland selected Texas Tech burner DeAndre Washington in the fifth round of this year's draft with the hope of adding a quality backup and a change-of-pace runner to spell Murray.

S Karl Joseph — The former West Virginia star was selected by Oakland with the 14th pick in the 2016 NFL Draft. In three plus seasons with the Mountaineers, Joseph had 16.5 tackles for loss, nine interceptions and eight forced fumbles. Joseph is listed as the No. 2 strong safety behind Keith McGill as he works his way back from a torn ACL sustained during practice as a senior last October.

Feeling The Heat

Defensive Coordinator Ken Norton Jr. — Oakland signed cornerback Sean Smith and linebacker Bruce Irvin and drafted safety Karl Joseph to help improve its up-and-down defense.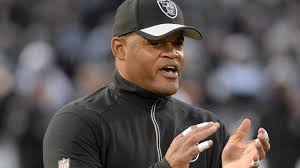 Last season the Raiders ranked 22nd in points allowed, total yards allowed and rushing yards allowed and tied for 27th against the pass. The onus is on Norton, right, to mesh the high-profile newcomers with Oakland's returning defensive core players in a cohesive system where they can thrive.

Raiders secondary — Three new starters — cornerback Sean Smith and safeties Reggie Nelson (Bengals) and Keith McGill — join returning cornerback David Amerson in Oakland's revamped defensive backfield. This unit will be tested early with the Raiders playing three road games in the season's first four weeks. In those road contests, the Oakland defense faces a formidable challenge against QBs Drew Brees (Saints), Marcus Mariota (Titans) and Joe Flacco (Ravens).

CB DJ Hayden — The 2013 first-round draft choice enters his fourth NFL season in a two-player competition for slot cornerback in nickel packages. Sean Smith and David Amerson are locked in as the starting corners while Hayden and TJ Carrie are in the mix at the slot position. Hayden reportedly had an injury-free and productive offseason program and training camp after battling injuries and inconsistency during his first three seasons with the Raiders.

OL Menelik Watson & Austin Howard — The injury-prone Watson has played in only 17 games with 12 starts since being selected by Oakland with the 42nd overall pick in the 2013 draft. Watson avoided injury during training camp and enters the regular season as the team's starting right tackle with Howard No. 2 on the depth chart. Last season, Watson was a leg up on Howard in their competition before ruputuring his Achilles during the third exhibition game. Howard started 13 straight games before being sidelined with a season-ending injury.

Linebacker Aldon Smith — The former 49er will not be eligible for reinstatement by the NFL until mid-Novemeber. He was suspended for one calendar year on Nov. 17 2015 because of violations of the league's substance-abuse policy. Smith played in nine games with Oakland last season with seven starts and finished his second straight suspension-shortened season with 28 tackles and 3.5 sacks. The ex-Missouri star had 33.5 sacks his first two seasons with the 49ers but only 14.0 sacks the past three seasons.

The Schedule

Oakland has three prime time games — Sunday, Nov. 6, against the visiting Denver Broncos at 5:30 p.m. (Pacific) on NBC; Monday, Nov. 21, against the Houston Texans at 5:30 p.m. in Mexico City on ESPN; Thursday, Dec. 8, against the host Kansas City Chiefs at 5:25 p.m. on NBC and the NFL Network.

The Raiders open their 2016 regular season against the host New Orleans Saints on Sunday, Sept. 11. Oakland is 1-12 in its past 13 season openers.

The Raiders are 15th in 2016 NFL Strength of Schedule. Oakland's opponents had a .500 percentage and a 128-128 record in the 2015 season. The Raiders tied for seventh with Kansas City in 2015 NFL Strength of Schedule. Oakland's opponents had a .545 winning percentage and 139-116-1 record in the 2014 season.

The Raiders play six games against 2015 playoff teams: Denver, Kansas City, Carolina and Houston.

The Raiders start and end the season with three road games over four weeks. Oakland's final three road games are against AFC West rivals Kansas City, San Diego and Denver. The Raiders play the host Chiefs on Thursday, Dec. 8, only four days after a home game against Buffalo on Dec. 4.

Fast Facts

The Raiders have missed the playoffs for 13 consecutive seasons. The Buffalo Bills have the NFL's current longest playoff drought at 16 seasons, followed by the Raiders and Cleveland Browns at 13 years and the Los Angeles Rams at 11.
---
The Raiders' Khalil Mack was named to the 2015 Associated Press All-Pro Team at defensive end and outside linebacker. It is the first time a player has been on the first team at two positions.
---
Oakland's Derek Carr is the sixth quarterback to throw at least 20 TD passes in each of his first two NFL seasons. Dan Marino, Peyton Manning, Andrew Luck, Russell Wilson and Andy Dalton previously accomplished the feat. Carr's 53 TD passes in two seasons is second only to Marino.
---
The Raiders went 4-4 in road games during the 2015 season They were 2-22 their previous 24 away games.
---
The Raiders are 1-12 their past 13 season openers. Their only win during this dismal stretch was a 23-20 victory over host Denver on Sept. 12, 2011.

By The Numbers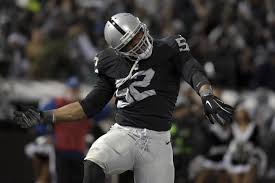 5: Sacks by Oakland's Khalil Mack, above, during a 15-12 victory at Denver on Dec. 13, 2015. It is the most sacks in the NFL since 2012, when Aldon Smith had 5.5 sacks for the 49ers. Mack's five sacks equal Howie Long's franchise record against the Redskins on Oct. 2, 1983 — the regular-season game that preceded their Super Bowl matchup.

13: Raiders' consecutive non-winning seasons. Oakland has not had a winning record since going 12-4 in 2002.

18-46: The Raiders' win-loss record in four seasons under GM Reggie McKenzie.

32: Touchdown passes by Derek Carr in the 2015 season. Carr joins Daryle "The Mad Bomber" Lamonica as the only Raiders to reach 30 TD passes in a season. Lamonica accomplished the feat twice, in the 1967 and '69. season.

Did You Know?

The Raiders had a 7-9 record in Jack Del Rio's first year as Oakland head coach in 2015. Only Tom Cable in 2010 and Hue Jackson in 2011 (both 8-8) have won more games in a season as Oakland head coach since 2003.
---
For only the second time in franchise history, the Raiders had a 3,000-yard passer (Derek Carr, 3,987), a 1,000-yard rusher (Latavius Murray, 1,066) and 1,000-yard receiver (Amari Cooper (1,070) in the 2015 season.

Their performances match the 2005 Raiders season, when Kerry Collins, Randy Moss and LaMont Jordan reached the 3,000-1,000-1,000 club. The 1996 New England Patriots (Drew Bledsoe, Terry Glenn, Curtis Martin are the only team to have a 4,000-yard passer, a 1,000-yard receiver and a 1,000-yard rusher in league history.

Photo IDs/credit:

Derek Carr (4), Latavius Murray (28), Ken Norton Jr., Khalil Mack (52)





From Google Images

Updated: 9-13-2016

OAKLAND RAIDERS RAP

Archives | Court | Home | Links | Schedule | Tickets