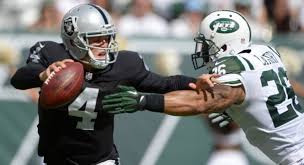 Raiders 2015 Season Review


After a three-year hiatus, the Oakland Raiders show positive signs in the 2015 season.

Led by new head coach Jack Del Rio, the Raiders exhibit a big-play offense featuring quarterback Derek Carr, wide receivers Amari Cooper and Michael Crabtree and running back Latavius Murray.

The up-and-down defense is led by emerging star Khalil Mack and ageless Charles Woodson.

For the first time since 2011, the Raiders play meaningful games in December.

Their 7-9 record is an improvement from the past three seasons but not good enough to end a 13-year postseason drought.

With the exception of a blowout loss to Cincinnati in the season opener, in their remaining 15 games the Raiders have the lead or trail by seven points or less in the fourth quarter.

Unfortunately, style points do not translate into victory in the competitive NFL, where a few positive plays can mean the difference between winning and losing.

Here's a capsule review of Oakland's 2015 season:

Offensive MVP: Derek Carr

In only his second NFL season, Carr throws for 32 touchdowns and 3,987 yards, falling 13 yards shy of the 4,000 plateau. Carr joins Daryle Lamonica as the only Raiders to have 30 or more TD passes in a season. Lamonica had 30 TD strikes in 1967 and a franchise-record 34 in '69.

Defensive MVP: Khalil Mack

Mack has a breakout performance in only his second NFL season, contributing 77 tackles, 15 sacks, 66 other quarterback pressures, 23 tackles for losses, two forced fumbles and five batted passes, The former University of Buffalo star has 19.0 sacks through his first 32 games in the NFL.

Thanks For The Memories, C-Wood

Playing the 18th and final season of a stellar career, safety Charles Woodson is selected to his ninth Pro Bowl and leads the Raiders with five interceptions. At age 39, Woodson is named to The Associated Press All-Pro second-team, his eighth All-Pro honor.

Exclusive Club

Running back Latavius Murray (1,066 rushing yards) and wideout Amari Cooper (1,070 receiving yards) reach the 1,000-yard plateau. Murray is Oakland's first 1,000-yard rusher since Darren McFadden had 1,157 yards in 2011 while Cooper is the Raiders' first 1,000-yard receiver since Randy Moss had 1,005 yards in 2005.

Fast Facts

Despite more than doubling their win total from the previous season, the Raiders miss the playoffs for a 13th consecutive season. Four losses in five weeks knock the Raiders out of playoff contention and negate a promising 4-3 start.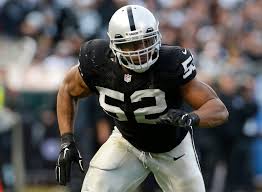 Khalil Mack, right, is named to the 2015 Associated Press All-Pro Team at defensive end and outside linebacker — becoming the first player to be selected to the first-team at two positions. Mack's signature game is a boffo five-sack performance at Denver on Dec. 13 that fuels Oakland's 15-12 upset of the Broncos. Mack's five sacks equal Howie Long's franchise record against the Redskins on Oct. 2, 1983.

For only the second time in franchise history, the Raiders have a 3,000-yard passer (Derek Carr, 3,987), a 1,000-yard rusher (Latavius Murray, 1,066) and 1,000-yard receiver (Amari Cooper (1,070).
Their performances match the 2005 Raiders season, when Kerry Collins, Randy Moss and LaMont Jordan reached the 3,000-1,000-1,000 club. The 1996 New England Patriots (Drew Bledsoe, Terry Glenn, Curtis Martin are the only team to have a 4,000-yard passer, a 1,000-yard receiver and a 1,000-yard rusher in league history.

The Raiders surrender a franchise-worst 597 yards during their 38-35 loss to the Pittsburgh Steelers on Nov. 8, 2015. The previous Raiders record was 593 yards allowed against San Diego on Nov. 10, 1985.

The Raiders allow 19 of their 33 sacks in the final five games, including a season-high six against the Chiefs in the season finale.

Derek Carr throws for eight TDs with seven interceptions in the Raiders' final five games. The second-year starter has 24 TD passes with only six picks in the season's first 11 games.

By The Numbers

0-4: Raiders' record aginst NFC North opposition. Oakland lost games to Chicago, Minnesota, Detroit and Green Bay.

4-4: Raiders' road record, their best showing since going 5-3 in the 2011 season.

7: Derek Carr interceptions in the fourth quarter, including three against the Chiefs on Dec. 6.

13: Consecutive non-winning seasons by the Raiders. Oakland has not had a winning record since going 12-4 in 2002.

32: Touchdown passes by Derek Carr, who becomes only the second Raider (Daryle Lamonica accomplised the feat in 1967 and '69) to throw 30 or more scoring passes in a season.

They Said It

"We wanted to win the division, that was our goal and we didn't do that. We wanted to play in the postseason and we came up short. We're not happy with that. We're not satisfied at all."

Running back Latavius Murray

"There are some teams in the playoffs that we played against. There are teams that we saw the mistakes they had and they barely beat us and things like that. We see where we're headed. Obviously we didn't earn it, we're not there yet, but we see where we're headed."

Quarterback Derek Carr

"For this team, in critical situations you can't beat yourself. It's hard enough to go out there and play the other team, but when you make mistakes that are hurting you and are self-inflicted, it's hard to overcome. As this team grows and gets better, we'll get better at those type of things."

Safety Charles Woodson

"We didn't win this game, but there was no lack of determination or grit. I love that about how we developed, how we can stay in it."

Coach Jack Del Rio after a 23-17
loss at Kansas City in the season finale

"This is my last game in the Coliseum but just know I'll never leave you. Go Raiders!"

Safety Charles Woodson after a
23-20 win over San Diego on Dec. 24

Did You Know?

Oakland's Derek Carr is the sixth quarterback to throw at least 20 TD passes in each of his first two NFL seasons. Dan Marino, Peyton Manning, Andrew Luck, Russell Wilson and Andy Dalton previously accomplished the feat.
---
Retiring Raiders safety Charles Woodson finishes with 65 career interceptions, tied for fifth place on the carrer list with Ken Riley. Charles Woodson finishes tied with Rod Woodson and Darren Sharper with 13 defensive TDs, the most in league history.
---
The Raiders finish with a 7-9 record in Jack Del Rio's first year as Oakland head coach. Only Tom Cable in 2010 and Hue Jackson in 2011 (both 8-8) have won more games in a season as Oakland head coach since 2003.
---
Updated: 01-11-2016
OAKLAND RAIDERS RAP
Archives | Court | Home | Links | Schedule | Tickets