<! --BEGIN LEFT SIDE NAVIGATION-->

Archives

<!BEGIN MAIN BODY -->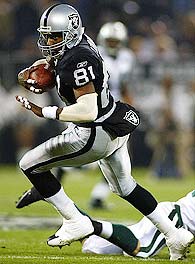 Brown Chosen For HOF


Former Raiders great Tim Brown, top photo, was among six players voted into the Pro Football Hall of Fame, the HOF announced Jan. 30, 2015. The late Junior Seau, Jerome Bettis, Charles Haley, Will Shields and senior selection Mick Tingelhoff. also were elected.

The class of 2015 also includes two contributors, Bill Polian and Ron Wolf.

Brown, 48, was in his sixth year as a HOF finalist. He played 16 seasons (1988-2003) for the Raiders and one with the Tampa Bay Buccaneers. The Dallas, Texas, native was chosen to a Raiders franchise-high nine Pro Bowls.

When Brown, right, retired after the 2004 season, he ranked No. 2 in NFL history with 14,934 receiving yards, No. 3 with 1,094 catches, and No. 3 with 100 touchdown catches. As a collegian, he capped his Notre Dame playing career by winning the 1987 Heisman Trophy.
As a rookie with the Raiders, Brown led the league in kickoff returns, return yards, and average yards per return, and was an All-Pro pick as a kick returner. He earned another All-Pro selection in 1997 at wide receiver.
The 46-person HOF selection committee gave Brown and the seven others in the Class of 2015 the required 80 percent approval rating.
After his election to the HOF on Jan. 31, Brown tweeted: "Hey everybody, just wanted to say thanks for all the well wishes! This is an incredible moment. Thanks for all the support over the years!
Induction for the Class of 2015 will be Aug. 8 in Canton, Ohio.
Wolf, 76, helped transform the Green Bay Packers into Super Bowl champions after spending 23 seasons with the Raiders. The former Packers general manager is considered one of the top player personnel men in NFL history.
Five 2015 nominees reportedly were eliminated in the final vote: Tony Dungy, Kevin Greene, Marvin Harrison, Orlando Pace and Kurt Warner. Earlier in the day, the selection committee reduced the list of 15 modern-day finalists by eliminating Morten Andersen, Terrell Davis, John Lynch and coaches Don Coryell and Jimmy Johnson.
For more information on the Class of 2015, please click Pro Football Hall of Fame
Contributing: The Associated Press &

Raiders.com
Updated: 01-31-2015
OAKLAND RAIDERS RAP
Archives | Court | Home | Links | Schedule | Tickets