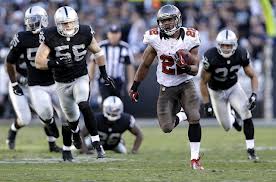 2012 Season Review


In January 2012, the Raiders trumpet the arrival of general manager Reggie McKenzie and head coach Dennis Allen as "a new era of excellence."

In their first season at the helm, McKenzie and Allen witness a familiar Raiders pattern: losses outnumber wins.

In the 2012 season, the Raiders drop four of their first five games en route to a 4-12 record — their 10th consecutive non-winning season and the eighth time in 10 seasons they finish with at least 11 losses.

Three of Oakland's wins are against Kansas City (twice) and Jacksonville, arguably the league's two worst teams.

The Raiders flounder defensively while their running game, productive the past two seasons, struggles to find a rhythm.

Oakland allows 443 points — fourth most in the NFL — and second most in franchise history.

The Raiders rank 28th in NFL rushing, averaging 88.8 yards per game, and tie for a league-low four rushing touchdowns. In 2011, the Raiders ranked seventh in rushing, averaging 131.9 yards per game with 16 touchdowns.

With a broke defense and a stagnant rushing attack, the Raiders have little chance for success.

Here is a capsule review of Oakland's 2012 season:

Top Accomplishments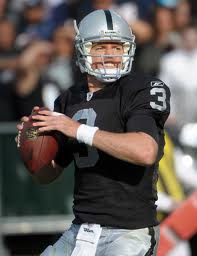 Quarterback Carson Palmer, right, throws for 4,018 yards — the second highest single-season total in franchise history. Rich Gannon set the Raiders record of 4,689 passing yards in 2002. Palmer finishes the 2012 season with 22 touchdown passes, 14 interceptions, a 61.1 completion percentage (345 completions in 565 attempts) and an 85.3 efficiency rating. He threw for a career-high 4,131 yards in the 2007 season as a member of the Cincinnati Bengals.

Kicker Sebastian Janikowski makes 31 of 34 field-goal attempts. His only misses are from 64, 61 and 51 yards. Janikowski moves into a tie for second place on the NFL's career list for field goals of 50 or more yards. The Polish Cannon has 42 field goals of 50 yards or longer, tying John Kasy on the league's career list.

Tight end Brandon Myers finishes the season with 79 catches — the most catches by a Raiders player since wide receiver Jerry Rice had 92 receptions in the 2002 season. Myers' total was the most by a Raiders tight end since Todd Christensen had 95 catches in 1986. Myers had 32 catches in his first three seasons (2009 thru 2011) with Oakland.

Wide receiver Rod Streater finishes with 39 receptions, passing Hall of Famer Marcus Allen (1982) for the fourth-most catches by a Raiders rookie. Streater, signed by Oakland as a non-drafted drafted agent in May, had only 19 catches during his senior year at Temple in 2011.
Biggest Disappointments


New head coach Dennis Allen, right, can't elevate the Raiders from their losing abyss. His decision to change from a power running game to a zone blocking scheme has inconsistent results. The Raiders average 3.8 yards per rush, down from 4.5 yards in 2011. On the positive side, Oakland has a successful pass offense (8th in the NFL), and it has only 108 penalties — its fewest infractions since 2001.

Running back Darren McFadden averages a career-low 3.3 yards per rush — the lowest ever for a Raiders player with at least 150 carries in a season. He averaged over 5.0 yards per carry the previous two seasons. In 2012, McFadden finished with 707 rushing yards, 28th in the league.

The 169 points the Raiders allow during a four-game stretch from Nov. 4 to Nov. 25 are the second most in a four-game span since the AFL-NFL merger in 1970. Tennessee allowed 177 points over four games in the 2004 season. The Raiders franchise record for points allowed over four games is 171 points the first four games of the 1961 season.

The Raiders' pass rush is nonexistent at times — finishing with 25 sacks, second-fewest total in the league. In 2011, Oakland had 39 sacks. Entering this season, the defensive line appeared to be one of the team's strengths, led by Pro Bowl defensive tackle Richard Seymour. Seymour contributes three sacks in eight games before being sidelined by a season-ending hamstring injury. Defensive end Lamarr Houston leads Oakland with 4.5 sacks.
Fast Facts


The Raiders allow 443 points — the most for the team since its second season in 1961 when it surrendered 458 points.

Running back Darren McFadden continues to be hampered by injuries, missing four games because of a sprained ankle. The former Arkansas star has missed 23 games in five NFL seasons because of injury.

In the 2011 season, the Raiders set an NFL record with 163 penalties. Oakland's 108 penalties this season are the fewest for the franchise since it had 107 infractions in 2001, the final season under coach Jon Gruden.

The Raiders are 8-16 with quarterback Carson Palmer, who has thrown 34 touchdown passes and 30 interceptions after joining Oakland in a trade in October 2011.

Fullback Marcel Reese is second on the team with 52 receptions for 496 yards and a touchdown. He leads all NFL running backs with 9.5 yards per catch
By The Numbers:
0: Raiders playoff appearances since the 2003 season.
0: Raiders players chosen for the 2013 Pro Bowl, the first time since the 2003 season when the team had no Pro Bowl players.
1-7: Raiders' road record in the 2012 season. It is the fewest road wins for Oakland since it went 0-8 away from the O.co Coliseum in the 2006 season.
10: Consecutive non-winning seasons by the Raiders. Oakland has not had a winning record since the 2002 season when it went 12-4 en route to a berth in Super Bowl XXXVII.
54: Consecutive field goals by the Raiders' Sebastian Janikowski from 40 yards or less. The Polish Cannon last missed an attempt from under 41 yards when he was unsuccessful on a 32-yard attempt against Arizona on Sept. 26, 2010.
They Said It
"I believe in continuity. I think that's the way you're able to sustain success in this league is through continuity. But I also know that at some point we're looking for the results and we have to have the results. This is a win-now business no matter how much patience we're looking for."
Raiders coach Dennis Allen
"I will be great at the quarterback position, but I have to just let things slow down for me. We've got to go out and work hard, and make you guys (reporters) write some good things, and we're going to come back strong next year, I promise you guys that."
Raiders QB Terrelle Pryor after a
24-21 loss to San Diego on Dec. 30.
"I'm just really tired of losing. It's going from anger to sadness to ... I don't know."
Raiders S Mike Mitchell after a
34-10 loss at Cincinnati on Nov. 25.
"We can't stop the run, We can't stop the pass. Things just aren't going well on defense. Right now I guess we're just a bad defense. We can't really hide it. At this point, the numbers don't really allow it. We're just bad right now."
Raiders CB Michael Huff after a
20-17 loss to Cleveland on Dec. 2.
Did You Know?:
Dennis Allen is the Raiders' seventh head coach since the 2003 season. The others are Bill Callahan (2002 & 2003), Norv Turner (2004 & 2005), Art Shell (2006), Lane Kiffin (2007 & 2008), Tom Cable (2007 thru 2010) and Hue Jackson (2011). Only Cable lasted more than two seasons. Since 2003, the Raiders have a woeful 49-111 win-loss record.
---
Tight end Brandon Myers ties a Raiders' single-game record with 14 catches against the Cleveland Browns on Dec. 2. Myers finishes with 130 receiving yards and a touchdown against the Browns, who win the game 20-17.
---
With 414 passing yards and 4 touchdowns during Oakland's 42-32 loss to Tampa Bay on Nov. 4, Carson Palmer joins Cotton Davidson and Tom Flores as the only Raiders players to have 400 or more passing yards and four or more touchdowns in a game.
---
Updated: 01-12-2013
OAKLAND RAIDERS RAP
Archives | Court | Home | Links | Schedule | Tickets