Raiders Hire Allen


The Raiders reportedly reached agreement with Denver Broncos defensive coordinator Dennis Allen to be their head coach on Jan. 24, according to Fox Sports and ESPN.

Allen and Raiders general manager Reggie McKenzie reportedly met for a second time in Mobile, Ala., on Jan. 24 and consummated a contract that will make Allen the franchise's 18th coach — Art Shell had two stints. Allen has no previous head coaching experience.

The Raiders announced the hiring of Allen on Jan. 27. He reportedly received a four-year deal.

Allen, 39, replaces Hue Jackson, fired by McKenzie on Jan. 10. Jackson had an 8-8 record in 2011, his only season at the helm with Oakland.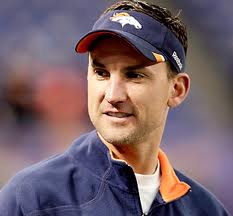 Allen, right, is the first Raiders head coach with a defensive background since linebackers coach John Madden was hired by Al Davis in 1969 to succeed John Rauch. Madden won 103 games in 10 seasons and led Oakland to its first Super Bowl following the 1976 season.
Before serving as Denver's defensive coordinator this season, Allen spent five years as a defensive assistant with New Orleans and also coached for Atlanta. He helped the Broncos improve from allowing a league-worst 29.4 points and 390.8 yards per game in 2010 to ranking 20th in yards (357.8) and 24th in points (24.4) this season on the way to an AFC West title. The Broncos tied for 10th with 41 sacks and won their first playoff game in six seasons.
"He knew how to get us ready," Broncos cornerback Champ Bailey told reporters in Honolulu on Jan. 24. "I give him a lot of credit for the success we had this year. (He's) serious about the business. He's one of the most intense coaches I've had. It was a pleasure working with him. You knew what he was going to bring you every day."
Other candidates reportedly to have interviewed with McKenzie included Philadelphia Eagles offensive coordinator Marty Mornhinweg, Miami Dolphins defensive coordinator Todd Bowles, New Orleans Saints offensive coordinator Pete Carmichael Jr. and Green Bay assistants Winston Moss and Dom Capers. Denver Broncos offensive coordinator Mike McCoy and Chicago Bears offensive coordinator Mike Tice reportedly canceled interviews with McKenzie.
Allen becomes the Raiders' seventh head coach since Jon Gruden left for the Tampa Bay Buccaneers after the 2001 season — following Bill Callahan, Norv Turner, Art Shell, Lane Kiffin, Tom Cable and Jackson. Gruden is the last Raiders head coach to spend four seasons on the job. The Raiders have fired eight head coaches (Mike White and Joe Bugel were the others) since the team returned to Oakland in 1995.
The Raiders haven't had a winning record since going 12-4 in 2002. Their 99 losses over the past nine seasons are the second most in the NFL and their current nine-year playoff drought is tied with Cleveland for the second longest in the league.
Said Broncos head coach John Fox about Allen in a statement Jan. 27:
"He's a sharp guy who knows football, has a way of relating to his players and carries himself very well. Dennis is a strong motivator and teacher with an aggressive style of coaching. He will approach the job with tremendous energy and passion to get the most out of his team. His thorough understanding of defense, from the back to the front, and his ability to teach fundamentally and assignment-wise really helped us get better. He's been around a lot of good people during his NFL career and has a very bright future ahead of him."
Allen's biggest task with his new team is to reduce penalties and improve a woeful defense.
In the 2011 season, the Raiders committed 163 penalties for 1,358 yards, setting NFL records in both categories. Since the start of the 2003 season, Oakland has committed a league-worst 1,183 penalties — 133 more than second-worst Arizona, which is the same difference between second and 14th place.
On defense in the 2011 season, the Raiders established franchise worsts in touchdown passes allowed (31), rushing yards per carry (5.1), yards passing (4,262) and total yards (6,201), while giving up the third-most points (433) in team history.
Oakland joined this season's Tampa Bay Buccaneers as two of the four teams to allow at least 30 TD passes and 5.0 yards per carry in a season, a distinction achieved previously by only the 1950 Baltimore Colts and 1952 Dallas Texans. The Raiders also became the sixth team since the 1970 merger to allow at least 2,000 yards rushing and 4,000 yards passing in a season.
Since 2003, the Raiders have the worst run defense in the league, allowing 175 touchdowns on the ground and 141.7 yards rushing per game.
Updated: 01-27-2012
Contributing: The Associated Press
OAKLAND RAIDERS RAP
Archives | Court | Home | Links | Schedule | Tickets