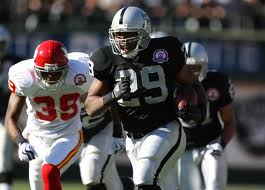 2011 Season Review


Entering their 2011 regular-season finale, the Raiders had a chance to advance to the playoffs for the first time in nine seasons.

In a season of challenges and adversity, Oakland can't get over the hump — losing to San Diego on Jan. 1, cementing Oakland's ninth straight non-winning season.

For the Raiders, the 2011 season will be remembered for the passing of longtime owner Al Davis and an underachieveing defense.

After a 7-4 start, the Raiders drop four of their final five games. Injuries to running back Darren McFadden, wide receiver Jacoby Ford and quarterback Jason Campbell limit Oakland's offense and its defense flounders throughout the season.

These undisciplined Raiders set NFL records for penalties and penalty yards. They cough up second-half leads in losses against Buffalo, Denver and Detroit.

A season that started with promise ends in defeat.

Nine days after the Raiders' season ends, coach Hue Jackson is fired by new general manager Reggie McKenzie. If you are counting, the Raiders have dismissed six head coaches since 2003.

Here's a capsule review of Oakland's 2011 season:

Top Accomplishments



Kicker Sebastian Janikowski, right, has a season for the ages. The Polish Cannon made 31 of 35 field goal attempts. His only misses are from 58 yards (ball hit the crossbar), 56 yards while attempts from 49 and 65 yards are blocked. In Oakland's season opener, Janikowski ties an NFL record held by Tom Dempsey of New Orleans (1971) and Jason Elam of Denver (1998) with a 63-yard field goal in a 23-20 win over Denver.

A day after team owner Al Davis passes, the Raiders defeat the host Houston Texans 25-20. With Houston at the Oakland 5-yard line and seven seconds left, safety Michael Huff intercepts Matt Schaub's pass in the end zone. Huff tells reporters afterward: "We know he (Davis) is looking down on us right now. This win is for him. I appreciate everything he's done for this organization. He's never gone in our eyes. We'll never let him go. He's with us."

Running back Michael Bush, top photo, establishes career highs in rushing yards (977) and receptions (37). His 242 scrimmage yards against San Diego on Nov. 10 are the most for the Raiders since 1963 and the fourth highest total in Raiders history.

Darrius Heyward-Bey's emerges as a productive receiver with career-bests of 64 catches for 975 yards and four TDs. In his previous two seasons with the Raiders, the former first-round draft choice had 35 catches for 490 yards and two TDs.

Shane Lechler's 80-yard punt against the Bears on Nov. 27 surpassed Wayne Crow's franchise record 61-yarder against the New York Titans in 1961.
Biggest Disappointments


The Raiders' defense flounders in historic proportions. Oakland has franchise worsts in touchdown passes allowed (31), yards per carry (5.1), yards passing (4,262) and total yards (6,201), while giving up the third-most points (433) in team history.
Oakland joins this season's Tampa Bay Buccaneers as two of the NFL's four teams to allow at least 30 TD passes and 5.0 yards per carry in a season — a distinction achieved previously by only the 1950 Baltimore Colts and 1952 Dallas Texans. The Raiders also become the sixth team since the 1970 merger to allow at least 2,000 yards rushing and 4,000 yards passing in a season.
The Raiders' defense has second-half meltdowns in losses to Buffalo, Denver, Detroit and San Diego. In Week 2, Buffalo scores five touchdowns on five possessions; in Week 9, Denver scores the final 24 points to erase a 10-point deficit; in Week 15, Detroit drives 98 yards with no timeouts for the winning touchdown; in Week 17, San Diego drives 99 yards in four plays for a touchdown to seal victory.

The Raiders set NFL single-season records for penalties (163) and penalty yards (1,358), surpassing the totals of 158 penalties for 1,304 yards set by the 1998 Kansas City Chiefs. The previous Raiders franchise record was 156 penalties in 1996. The previous franchise record for penalty yards was 1,276 in 2010. Oakland has led the league in penalties 17 times, one more than the Chicago Bears for the most in NFL history.

Running back Darren McFadden, right, misses the season's final nine games with a mid-foot sprain after having 614 rushing yards in the season's first seven games. He has been sidelined with injuries in three of his first four NFL seasons. Despite an abbreviated season, McFadden is namned an alternate on the 2012 American Conference Pro Bowl team.

Quarterback Jason Campbell sustains a broken right collarbone during the third quarter of Oakland's 24-17 win over Cleveland on Oct. 16. At the time of his injury, Campbell had completed 60.6 percent of his passes and given Oakland steady play at quarterback.
Fast Facts


The Raiders miss the playoffs for a ninth consecutive season.

The Raiders are 10-3 the past 13 games against AFC West opposition. The three losess occurred this season at home against Kansas City, Denver and San Diego.

Sebastian Janikowski sets a franchise record with six field goals in a 25-20 victory over the Chicago Bears on Nov. 27.

The Raiders' 16-13 win over host Kansas City in Week 16 is Oakland's third straight overtime victory. The previous two OT wins were a 23-20 triumph over the visiting Chiefs on Nov. 7, 2010 and a 16-13 triumph over the visiting New York Jets on Oct. 19 in 2008. Before beating the Chiefs on Dec. 24, 2011, the last time the Raiders won on the road in overtime was a 30-24 victory at San Francisco on Oct. 8, 2000.
By The Numbers:
5-3: Raiders' road record, their first winning road record since the 2002 season.
6: Raiders head coaches not retained since the 2003 season. The list includes Bill Callahan, Norv Turner, Art Shell, Lane Kiffin, Tom Cable and Hue Jackson.
9: Consecutive non-winning seasons by the Raiders.
16: Carson Palmer interceptions in 10 games with the Raiders.
31.8: Average points allowed by Oakland during the season's final four games. The Raiders went 1-4 in those games and dropped out of the AFC West lead.
129: Points by Sebastian Janikowski, who leads the Raiders in scoring for the 12th straight season.
They Said It
"Your record says what you are. It's definitely not good enough."
Raiders DE Richard Seymour
"I would have loved to have seen this team healthy. I think it was a special team healthy. I'm confident in the direction we're going. There's going to be changes, I'm sure, like there always is, every year, no matter what. But I'm pretty sure there will be some personnel changes that need to be made."
Raiders P Shane Lechler
"I always feel like when you don't win the quarterback can always play better and I can definitely play better. It stinks to sit here and say next year, what are we going to do next year. You have to let this one settle in, look back at this entire season, find out why it didn't work out and why you didn't win game when you had chances and look to the future."
Raiders QB Carson Palmer after a
season-ending loss to San Diego on Jan. 1
"We cannot look at what we've done on defense and say it's good enough, or say it's even close to being good enough. It's not, and my players know that. We have to improve by leaps and bounds, and we're going to."
Raiders coach Hue Jackson
Did You Know?:
Carson Palmer's 417 passing yards against San Diego in the season finale is the third-highest in Raiders history, behind Jeff Hostetler's 424 (Oct. 31, 1993 vs. San Diego) and Cotton Davidson's 419 (Oct. 25, 1964 vs. Denver).
---
The Raiders have won seven straight road games against AFC West opposition the past two plus seasons. They are 3-0 in division road games this season and 0-3 in home games. Go figure.
---
The Raiders have announced sellouts for their eight home games, the first time since the franchise returned from Los Angeles in 1995 that all all eight home games are sold out.
---
Updated: 01-14-2012
OAKLAND RAIDERS RAP
Archives | Court | Home | Links | Schedule | Tickets