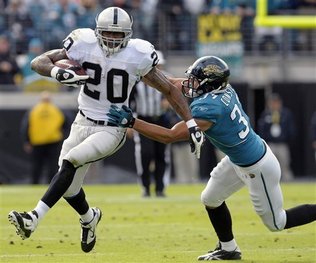 2010 Season Review
There are many positives for the Raiders during their up-and-down 2010 season.
They are 6-0 against AFC West opposition for the first time since 1988.
They rank second in rushing offense, sixth in scoring and 10th in total offense. Their defense has 47 sacks, equaling its most since 2000.
Now the bad news.
Despite ending a streak of seven consecutive losing seasons with an 8-8 record, the Raiders miss the playoffs for the eighth consecutive year.
They drop games to five teams with losing records and are 2-8 against opposition outside their division.
Two days after their season ends, the Raiders announce they decline the two-year, $5 million option on coach Tom Cable's contract.
A few days later, the Raiders announce the final year of star cornerback Nnamdi Asomugha's contract is voided because he fails to reach certain performance incentives, making the four-time Pro Bowler a free agent.
Just when the Raiders seem to be escaping their seven-year abyss, another offseason is engulfed in chaos.
Here's a capsule review of the Raiders' 2010 season:
Top Accomplishments


The Raiders become the first team since the 1970 AFL-NFL merger to go 6-0 in division games and not make the playoffs. The 1976 and 1988 Raiders teams also went 6-0 against AFC West opposition.

After two injury-plagued seasons, Darren McFadden establishes himself among the NFL's most explosive running backs. He has 1,157 rushing yards, the fifth highest total in team history. The former University of Arkansas star trails only Marcus Allen (1,168 yards in 1984), Mark van Eeghen (1,273, 1977), Napoleon Kaufman (1,294, 1997) and Allen (1,759, 1985) on the Raiders' single-season all-time rushing list. McFadden finishes the 2010 season with 1,664 combined yards, fifth highest in the league.


Raiders rookie Jacoby Ford, right, sets a single-season franchise record with three kickoff returns for touchdowns. The fourth-round draft choice from Clemson also scores two touchdowns receiving and two touchdowns rushing on reverses. His seven touchdowns come in the season's final eight games.

Led by Darren McFadden's four touchdowns, visiting Oakland sets a single-game franchise record for points with a 59-14 pummeling of the Denver Broncos on Oct. 24, 2010. The Raiders set franchise records for most touchdowns (8), most PATs (8) and most rushing touchdowns (5). McFadden ties a club record for most touchdowns in a game. Oakland leads 24-0 after one quarter and 38-0 22 minutes into the game. The Broncos equal a franchise record for points allowed.

In his first Raiders season, former Washington Redskins quarterback Jason Campbell, below, throws for 2,387 yards and 13 touchdowns, completes 59 percent (194 of 329) of his passes

and has an 84.5 passer rating. After being demoted in Week 3, Campbell returns to the starting lineup in mid-October because of a shoulder injury to Bruce Gradkowski and helps lead Oakland to a three-game winning streak. The Raiders are 8-5 in Campbell starts, the most wins by an Oakland quarterback since 2002. They are 0-3 in games Gradkowski starts.
Biggest Disappointments


The Raiders have a 2-8 record against non-division opponents. Five of their losses are to teams with losing records — Tennessee Titans, Arizona Cardinals, Houston Texans, San Francisco 49ers and Miami Dolphins.

Oakland is 29th against the run (133.6 yards per game) for the second straight season. The Raiders surrender 200 or more yards in three of their losses and 158 or more yards in four other losses. In its eight losses, Oakland allows an average of 188.0 rushing yards. In their eight wins, the Raiders allow an average of 79.3 rushing yards.

After being tied for first in the AFC West on Nov. 14, the Raiders drop four of their final seven games and finish in third place.

Needing a victory to solidify its playoff chances, Oakland blows a 10-point halftime lead en route to a crushing 38-31 loss at Jacksonville on Dec. 12. The teams combine for six touchdowns of 30 yards or more, including three by Darren McFadden.
Fast Facts


Sebastian Janikowski, right, sets a single-season franchise record of 142 points. Against the Indianapolis Colts on Dec. 26, The Polish Cannon surpasses kicker Jeff Jaeger's previous club record of 132 points set in 1993. Janikowski's previous best was 128 points in 2002. In the 2010 season, Janikowski also sets career-highs in field goal attempts (41) and field goals made (33). His previous career-best for field goals made was 26, in 2002 and '09.
---
The Raiders lead the NFL with 148 penalties for 1,276 yards. The yardage figure is a club record, surpassing its previous high of 1,274 yards (in 14 games) in 1969 and second only to the Kansas City Chiefs' all-time record of 1,304 yards in 1998. The 1996 Raiders amassed 1,266 penalty yards. Those three figures are the second-, third- and fourth-most in league history.
---
The Raiders score 410 points, more than doubling their 197 total in the 2009 season. It's the sixth most points in franchise history and the most since 2002.
---
The Raiders rank second in pass defense (189.2 yards per game) but allow 29 passing touchdowns, fifth highest in the league.
---
Cornerback Nnamdi Asomugha, defensive tackle Richard Seymour and punter Shane Lechler are named to the 2011 Pro Bowl. It's the most Raiders chosen for the Pro Bowl since the 2002 season when five Oakland players were named to the AFC team.

By The Numbers:
6-0: Raiders record against AFC West opposition. Oakland was 8-34 against division opposition from 2003 to 2009.

17-27: Tom Cable's win-loss record as Raiders coach. Cable coached more games as Raiders coach than any other coach since Jon Gruden (1998-2001).

47: Raiders sacks, tied (with the San Diego Chargers and Green Bay Packers) for second highest in the NFL. Linebacker Kamerion Wimbley leads the Raiders with nine sacks followed by defensive tackle Tommy Kelly and defensive end Matt Shaughnessy, who have seven sacks each.

226: Career receptions by the Raiders' Zach Miller, third highest among tight ends in franchise history. Miller trails only Todd Christensen (461 career catches) and Dave Casper (255) on the club's all-time list. In 2010, Miller has a team-high 60 catches for 685 yards and five touchdowns.

37-91: Raiders' win-loss record since the 2003 season.

They Said It
"I hope (everyone) will write this: We're not losers anymore. We're not. We're 8-8. That's not what we wanted. We wanted to be a playoff team but we came here to get the eighth win, which means we went 6-0 in the division. Most important, we're done with that losing."

Coach Tom Cable on Jan. 2 after
a 31-10 victory at Kansas City

"You got to start somewhere, we feel like this is a great starting point for us. We're going in the right direction. We didn't come here to be 8-8, to go undefeated in the division. We came here to go undefeated in the division and go to the playoffs. There are still a lot of goals to shoot for in the upcoming season."

QB Jason Campbell on Jan. 2
after Oakland beats Kansas City

"There are three or four games that we know we should have won, and we had them. We look back now and say, 'If we would have had those games, this would have been kind of easy.' We would have been in control of our own destiny. So, for that to happen, especially the way the season's finishing, it's just tough."

S Michael Huff on Dec. 26
after a 31-26 loss to the Colts

"We whipped them physically (and) mentally. In the first quarter, they didn't want no more. For real. The offensive linemen, their eyes were like this (makes huge circles with his fingers). Big. I told (teammate Richard Seymour when it was 14-0) 'If we score one more time, they're going to quit.' And that's how it played out."

DT Tommy Kelly on Oct. 24
after a 59-14 win at Denver

Did You Know?:
Darren McFadden is the first Raider to score on a run and catch of at least 50 yards in the same game since Clem Daniels in 1963. Against the Jacksonville Jaguars on Dec. 12, McFadden scores on runs of 51 and 36 yards and a 67-yard catch and run.
---
With a 59-yard field goal against Indianapolis on Dec. 26, the Raiders' Sebastian Janikowski becomes the second player in NFL history with two career field goals of 59 yards or longer. He had a 61-yarder against Cleveland during the 2009 season. Morten Andersen accomplished the feat with 59- and 60-yard kicks.
---
When the Raiders lose 38-31 to Jacksonville on Dec. 12, it's only their second loss in 32 games when scoring at least 30 points and gaining at least 475 yards. Their first loss came on Sept. 22, 1996, when they suffered a 40-34 defeat to visiting San Diego despite gaining 553 total yards. The loss to the Jaguars is also the first time since 2001 that the Raiders drop a game when scoring 31 or more points.
---
Photo captions/credits:


The Raiders' Darren McFadden (20)
eludes the Jaguars' Sean Considine (37)
on a 67-yard TD catch and run on Dec. 12, 2010.
By Phelan M. Ebenhack/Associated Press

Jason Campbell won eight of
his 13 starts in his first Raiders season.
By The Associated Press

Jacoby Ford and Sebastian Janikowski headshots
By NFL.com
---
Updated: 01-14-2011
OAKLAND RAIDERS RAP
Archives | Court | Home | Links | Schedule | Tickets