<! --BEGIN LEFT SIDE NAVIGATION-->

Archives

<!BEGIN MAIN BODY -->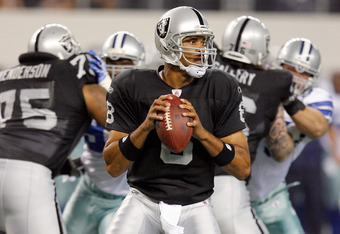 2010 Season Preview
The Raiders made major changes after the 2009 season, their seventh consecutive season with at least 11 losses.
They replaced quarterback JaMarcus Russell with former Washington Redskin Jason Campbell, top photo. They replaced popular middle linebacker Kirk Morrison with ex-Alabama All-America Rolando McClain.
They signed former Pro Bowl defensive tackle John Henderson (Jacksonville) and traded for starting outside linebackers Kamerion Wimbley (Cleveland) and Quentin Groves (Jacksonville).
Will the roster additions and subtractions launch Oakland to its first winning season since 2002?
Good question.
The Raiders are 29-83 the past seven seasons — the worst record among the NFL's 32 teams over that juncture. They are 8-34 the past 42 games against AFC West opposition, including 13 straight losses to San Diego.
Not a pretty picture.
Entering the 2010 season, the Raiders' chief concerns are offense (31st in total yards & 29th in passing yards in 2009), scoring (31st in points) and run defense (29th).
For the Raiders to end their losing ways, they need improvement in many areas and kick bad habits such as penalties and turnovers.
Here's a capsule outlook for the 2010 season:
Burning Questions

Will Jason Campbell end the Raiders' four-season search for a productive quarterback? Oakland released former starter JaMarcus Russell after acquiring Campbell in a 2010 NFL draft weekend trade with Washington.

Campbell, right, is coming off his best season, completing 64.5 percent of his passes and throwing for 3,618 yards with 20 touchdowns, 11 interceptions and a passer rating of 86.4. Russell had an abysmal 2009 season, completing 48.8 percent of his passes, with 3 touchdowns, 11 interceptions and a 50.0 rating — the lowest in the league in 11 seasons. Campbell enters the 2010 regular season with health concerns after sustaining a neck stinger and wrist injury during an Aug. 28 exhibition Raiders loss to the 49ers.

Will linebacker Rolando McClain and defensive end Lamarr Houston, Oakland's top two choices in the 2010 NFL draft, help improve the team's porous rush defense. They both will open the regular season as starters. Last season, Oakland ranked 29th against the run (155.1 yards per game) and allowed a league-high 24 rushing touchdowns.

Will Darrius Heyward-Bey emerge as a big-play wide receiver and justify his Top 7 selection by Oakland in the 2009 NFL draft? Heyward-Bey, who entered his second Raiders training camp as a projected starter, had only 9 catches in 11 games before going on injured reserve during his rookie season.

Will the Raiders' offensive line protect quarterback Jason Campbell on passing downs and open holes in the running game? In 2009, Oakland scored only 197 points and a league-low 17 offensive touchdowns. The Raiders also allowed 49 sacks and ranked 21st (106.3 yards per game) in rush offense. Entering the 2010 regular season, the Raiders will have two new O-line starters — veteran Langston Walker at right tackle and rookie Jared Veldheer at center. Veldheer, a third-round 2010 NFL draft choice from Division II Hillsdale College in Michigan, beat out Samson Satele during training camp. Starting left tackle Mario Henderson struggled during a 3-1 Raiders exhibition season.

Will new offensive coordinator Hue Jackson help elevate Oakland's offense? Jackson reportedly was hired by owner Al Davis to run the Raiders' offense, including calling plays — a role head coach Tom Cable had in 2009. Jackson spent the past two seasons with the Baltimore Ravens, helping develop quarterback Joe Flacco. He also has been offensive coordinator with Atlanta and Washington and coached receivers with Cincinnati during his long career as an NFL assistant. Another recycled coach hired by Davis or someone with fresh ideas who can get positive results?

Players To Watch


CB Nnamdi Asmougha — The Raiders reportedly plan for Asmougha, right, to shadow the opposition's top receiver in pass coverage, a switch from recent seasons when the three-time Pro Bowler played exclusively at left cornerback. After his breakout 2006 season when he had eight interceptions, Asmougha has recorded only one interception each of the past three seasons as teams avoided testing him.

DL Richard Seymour — The former New England Patriot standout had only four sacks in 16 games after being traded to Oakland days before the start of thee 2009 regular season. The 10-year veteran had 39 sacks in eight seasons with the Patriots. Switching from defensive end to tackle this season, Seymour is expected to be a disruptive force as a run-stopper and pass rusher.

TE Zach Miller — Has averaged 55.3 catches over his first three NFL seasons. His 66 receptions in 2009 are the most by a Raiders tight end since Todd Christensen's 95 in 1986.

WR Louis Murphy — The second-year player is a starter until Chaz Schilens returns from knee surgery. In 2009, Murphy out-performed fellow rookie Darrius Heyward-Bey and led the team in catches, receiving yards and touchdown catches.

OLB Kamerion Wimbley — Primed for a bounce-back season after recording only 4.5 sacks the past two seasons with Cleveland. He had 11 sacks as a Browns rookie in 2007. Wimbley exhibited his potential when he recorded four sacks in an Oakland exhibition win against the Chicago Bears in Week 2.

Feeling The Heat

Coach Tom Cable — No head coach has lasted more than two seasons with the Raiders since 2003. Cable, entering his second full season at the helm, is 9-19 with Oakland.


RB Darren McFadden — The former Top 5 draft pick has been hampered by injuries during his first two NFL seasons. When McFadden, right, has played, the results have been modest: 856 rushing yards, 5 touchdowns, 50 catches and 7 lost fumbles in 25 games. Entering the 2010 regular season, McFadden could get a chance to show he can be an every-down back if Michael Bush is limited by a broken left thumb sustained during the exhibition season.

OLB Thomas Howard — Enters the 2010 regular season as a backup after starting 62 of 64 games the past four seasons. Howard has only one interception the previous two seasons after recording six in 2007.

The Schedule

The Raiders have a chance for a quick start with three of their first five games at home. The flip side, three of Oakland's final five games are on the road.

Oakland's 2010 opponents — counting division foes only once — had a .495 win-loss percentage (103-105) in the 2009 season. The win-loss percentage of its 2009 opponents based on 2008 results was .505 (104-102-2). The Raiders open and close the regular season on the road — Sept. 12 against the Tennessee Titans and Jan. 2 against the Kansas City Chiefs.

Oakland was excluded from the NFL's prime-time schedule for the second time since 2007. The Raiders could end up in prime time when the NFL determines Sunday night matchups in weeks 11 through 17.

The Raiders reportedly played at least one prime-time game on a Thursday, Saturday, Sunday or Monday night in every season from 1970 through 2006.

Raiders Fast Facts

Owner: Al Davis.

Head Coach: Tom Cable, 2nd season, 9-19.

2009 Record: 5-11, third AFC West.

Key Additions: Quarterback Jason Campbell, LB Rolando McClain, DL John Henderson, DL Lamarr Houston, LB Kamerion Wimbley.

Key Departures: QB JaMarcus Russell, LB Kirk Morrison, DT Gerard Warren, DE Greg Ellis, RB Justin Fargas, OT Cornell Green.

2010 Season Opener: At Tennessee Titans, Sept. 12, 10 a.m. Pacific.

Photo caption/credit:

QB Jason Campbell threw for 50 TDs
and completed 61.2 percent of his passes
during four seasons with the Redskins.

Updated: 09-08-2010

OAKLAND RAIDERS RAP

Archives | Court | Home | Links | Schedule | Tickets