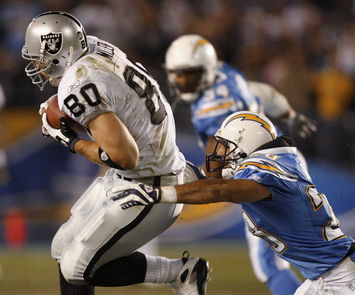 2008 Season Review
A sixth straight losing season ends with back-to-back victories. Wins over Houston and Tampa Bay ease the frustration of the previous 15 weeks when the Raiders drop 11 of 14 games.
After a 1-3 start, then coach Lane Kiffin is fired and replaced by former offensive line coach Tom Cable. The Raiders lose eight of their first 10 games under Cable before finishing with two victories.
They beat the surging Texans in Oakland 23-14 and then stun host Tampa Bay 31-24, eliminating the Bucs and former Raiders coach Jon Gruden from playoff contention.
Oakland ends a season with a win for the first time since its 2002 Super Bowl season.
Despite the euphoric finish, the Raiders achieve new lows in a 5-11 season:
They set an NFL record of futility with at least 11 losses in six straight seasons.
They rank 31st (second to last) against the run.
With a 1-5 record in AFC West games, they fall to 6-30 in the past 36 division games.
Since playing in the Super Bowl in January 2003, the Raiders are a league-worst 24-72.
Hereís a capsule review of Oaklandís 2008 season:
Biggest Surprises

PR/WR Johnnie Lee Higgins ó Sets a franchise record by returning three punts for touchdowns. He also has a TD catch in each of the final three games.

RB Michael Bush ó Rushes for a career-high 177 yards and 2 TDs in Oaklandís season-ending 31-24 win at Tampa Bay. The No. 3 running back on the Raiders depth chart shows heís recovered from a broken left leg that robbed him of his senior season at Louisville in 2006.

CB Chris Johnson ó Ties for the team lead with a career-high three interceptions. Emerges as a starting cornerback opposite Nnamdi Asomugha during the season half of the season.
Biggest Disappointments

WR Javon Walker & CB De Angelo Hall ó The teamís biggest (albeit most expensive) offseason acquisitions are busts. Walker contributes 15 catches and a TD before landing on injured reserve, while Hall is released in Week 10 after struggling as a starter during the seasonís first eight games.


QB JaMarcus Russell ó In his first season as a starter, the top pick in the 2007 NFL Draft throws 13 touchdown passes with 8 interceptions and loses a team-high 7 of 12 fumbles. His 53.8 completion percentage is the lowest in the league among quarterbacks with a mininum of 300 passing attempts. Russell helps the Raiders split their final six games as he completes 60 percent of his passes.

RB Darren McFadden ó Hampered by turf-toe and shoulder injuries, the No. 4 pick in the 2008 NFL Draft is limited to 499 rushing yards and 285 receiving yards.
Fast Facts
With a 5-11 record, the Raiders set an NFL record of six straight seasons with at least 11 losses. Oakland shared the previous league record of five straight seasons with at least 11 losses with the Tampa Bay Buccaneers (1985-1989).
---
With their season-ending victory at Tampa Bay, the Raiders win a road game in the final month of the season at a stadium outside of California for only the second time since they returned to Oakland in 1995. The first was a win at Kansas City in the 1999 season finale.
---
With 56 catches in the 2008 season, Zach Miller becomes the first Raiders tight end with over 50 catches since Ethan Horton had 53 in 1991. The Raiders record for catches by a tight end in a season is 95 by Todd Christiansen
---
Johnnie Lee Higgins leads Oakland with 22 catches and 366 receiving yards. Itís the fewest catches and receiving yards in a season in franchise history.

By The Numbers:

6: Consecutive Raiders losing seasons.
11: Consecutive Oakland losses to San Diego.
53.8: Completion percentage by the Raiders' JaMarcus Russell, lowest among NFL quarterbacks with a mininum of 300 attempts.
148.1: Raiders passing yards per game, lowest in the NFL.

They Said It

"I reached a point where I felt that the whole staff, we were fractionalized, that the best thing to do to get this thing back was to make a change. It hurts because I picked the guy. I picked the wrong guy. It didnít have to do with winning. It had to do with personality. Itís the first time I ever let anyone go based on what I call (being) just a flat-out liar."

Raiders managing general partner Al Davis
on firing coach Lane Kiffin

"Itís all I can do. Itís the best I can do. I want to be the head coach of the Raiders, but itís not in my hands. But I certainly know I put this team together and got it going in the right direction, and today proved that."

Raiders coach Tom Cable after
a 31-24 win over Tampa Bay

"We wonder why we donít get prime time games, and this is why. We were on Monday night against Denver (Sept. 8), we got blown out. Now, we came here (San Diego, Dec. 4) and we got blown out. You just wonder how many people care and how many people are upset. You canít go out and play the way we played and expect to win or expect to do well."

Raiders CB Nnamdi Asmougha
after a 34-7 loss to the Chargers

"I feel like Iím explosive. You never know what can happen. You know, it looks like heís tackled, it looks like heís down. Oh, heís gone. It looks like he canít catch it, like he canít do this. Ö There he goes. So I look at myself, I always look at myself as a playmaker."

Johnnie Lee Higgins after a
23-14 win over the Texans

Parting Shot:

With the firing of Lane Kiffin on Sept. 30, the Raiders have gone through seven head coaches since 1995. Kiffin joins Mike Shanahan as the only Raiders head coaches fired by managing general partner Al Davis during the season in Davisí four-decade tenure with the team.

Enter Tom Cable, right, as Kiffinís replacement. Despite a 4-8 record over the final 12 games of the 2008 season, the Raiders players play hard for their new coach. In the final six games, the Raiders are 3-3 ó their best showing since a 3-1 stretch in 2005. Raiders victories over Houston and Tampa Bay in the seasonís final two games is proof that Cable knows what buttons to push to get positive results from his players.
---
Photos captions/credits:


Raiders TE Zach Miller hauls in a
pass against San Diego on Dec. 4, 2008.
---
Updated: 08-07-2009
OAKLAND RAIDERS RAP
Archives | Court | Home | Links | Schedule | Tickets