Gannon Wins MVP Award


Raiders quarterback Rich Gannon capped a record-setting 2002 regular season by being named The Associated Press NFL Most Valuable Player.

Gannon, a backup for most of his 15-year NFL career before signing with Oakland in 1999, received 19 votes from a nationwide panel of 48 writers and broadcasters who cover the league. Green Bay's Brett Favre, the only three-time winner of the AP award, was runner-up with 15 votes and Tennessee's Steve McNair finished third with 11 votes in balloting announced Jan. 1, 2003.

Gannon, 37, led the Raiders to their third consecutive AFC West title with an 11-5 record and the top seed in the American Conference playoffs. He set NFL single-season records for completions (418), 300-yard games (10) and consecutive 300-yard performances (six).

Gannon (right) passed for a league-high 4,689 yards, falling 395 yards short of tying Dan Marino's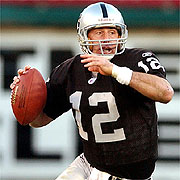 NFL single-season record of 5,084 yards set in 1984. The Raiders' fourth-year starter completed 67.6 percent of his 618 passing attempts for 26 touchdowns and only 10 interceptions. His 97.3 passer rating ranked second in the league to the Jets' Chad Pennington's 104.2. Gannon's 26 touchdowns tied for fifth, and his 1.6 interception percentage ranked third. He also completed an NFL single-game record 21 straight passes in Oakland's season-turning 34-10 victory at Denver on Nov. 11. The win ended a four-game losing streak and ignited the Raiders to five straight victories.
Led by Gannon's prolific passing, the Raiders ranked first in total yards (389.8 per game) and passing yards (279.7). Oakland led the league in total offense for the first time since 1970.
Typically modest, Gannon put the team accomplishments ahead of his individual season when speaking at a news conference Jan. 1 at the Raiders' training facility in Alameda, Calif. "What I achieved is what the team achieved," he said. "I'm just not very comfortable talking about myself and about individual accomplishments when really the focus of any good football team is team goals. And that's our goal here is to be champs."
Said Raiders coach Bill Callahan: "This is a guy I'm extremely proud of. He's a high character person, and his work ethic is unmatched of any pro that I've ever been around. I'm proud of the fact that not only has he done all these things and helped the team win, but he's let an offense capture a crown that hasn't been around here in a while."
Gannon signed a four-year, $16 million contract with the Raiders in February 1999 after spending four seasons with the Kansas City Chiefs. He started only 58 games with Minnesota, Washington and Kansas City from 1987-98. The Philadelphia native has a 43-25 record (including postseason) in four years as the Raiders' starting quarterback.
"If you look around the league, there's a lot of players who have had to go through some difficult times in order to get where they are in this league," Gannon said. "I never lost faith in myself or my abilities. But again, you need opportunities in this business and up until 1999 I didn't feel like I had a whole lot of opportunities."
Gannon joins quarterback Ken "The Snake" Stabler (1974) and running back Marcus Allen (1985) as the only Raiders to win the AP MVP award. The Rams' Kurt Warner won the award in 2001.
Updated: 1-2-2003
Photos caption/credit:
Raiders QB Rich Gannon by Reuters
OAKLAND RAIDERS RAP
Archives | Court | Home | Links | Schedule | Tickets