Here's a capsule review:

Top 5 Highlights


Wide receiver Jerry Rice (right) adds another chapter to his improbable Hall of Fame career. The former 49ers' great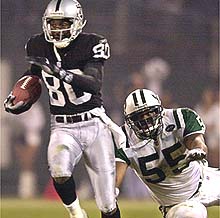 has 83 receptions for 1,139 yards and nine touchdowns in his first season with the Raiders. His 9-catch, 183-yard performance propels the Raiders to a 38-24 win over the New York Jets in a wild-card playoff game at Oakland. At 39, Rice becomes the oldest player to catch a touchdown pass in the postseason. He has his 13th 1,000-yard season (an NFL record) and the first since 1998. The 17-year veteran becomes the first player in league history to reach 20,000 receiving yards in an Oakland victory over Kansas City on Dec. 9, 2001.

The Raiders end a seven-game losing streak to Denver with a 38-28 victory at Oakland on Nov. 5, 2001. Rich Gannon throws for three touchdowns (two to Tim Brown) and Zack Crockett scores on two short runs for Oakland, which improves to 34-18-1 on Monday night. Raiders coach Jon Gruden gets his first win over Mike Shanahan after six losses.

Jerry Rice and Charlie Garner lead the Raiders to a 38-24 wild-card playoff victory over the New York Jets at Oakland on Jan. 12, 2002 -- the first prime-time postseason game in league history. Rice has nine catches for 183 yards and a touchdown as the Raiders end a three-game losing streak and avenge their 24-22 loss to the Jets in their regular-season finale the previous week. Garner, playing on a bruised right foot, rushes for 158 yards on 15 carries and a touchdown. After the Jets narrow the deficit to 31-24, Garner scores the clincher on an Oakland playoff record 80-yard touchdown run with 1:27 remaining. Rich Gannon completes 23 of 29 passes for 294 yards and two touchdowns.

Despite being hampered by a turf toe injury the final two months of the season, cornerback Charles Woodson is voted to his fourth straight Pro Bowl. Woodson, 25, joins punter Ray Guy as the only Raiders to earn Pro Bowl berths in each of their first four seasons. Guy was named to the team in his first five seasons.

Tim Brown scores his 100th career touchdown on an electrifying 88-yard punt return early in the second half to help the Raiders defeat Kansas City 28-26 at Oakland on Dec. 9, 2001. Brown fields Dan Stryzinski's punt at the 12, veers to his right and, with a key block from Mondriel Fulcher, breaks into the open on the sideline and races to the end zone. Brown tells reporters after the game: "I'd been returning punts up until '97 since I was 12 years old and that was probably the easiest punt return I ever had." It's the longest punt return of Brown's NFL career and his first for a touchdown since 1993. Brown is the 14th player in NFL history with 100 or more touchdowns.
Biggest Disappointments


The Raiders suffer a controversial 16-13 overtime loss to the New England Patriots in an American Conference divisional round playoff game at Foxboro Stadium on Jan. 19, 2002. With New England trailing 13-10, Oakland's Charles Woodson forces what appears to be a game-clinching turnover. Patriots quarterback Tom Brady (below)
fumbles when he's sacked by Woodson on a corner blitz with 1:47 remaining. Linebacker Greg Biekert recovers the fumble at the Oakland 48, and the Raiders begin to celebrate. Not so fast. After watching a video replay of the play, referee Walt Coleman overturns his call of the fumble - he rules that Brady's arm was going forward and therefore the play was an incomplete pass, according to The Tuck rule. Five plays later, Adam Vinatieri kicks a 45-yard field goal with 27 seconds left in regulation. After winning the coin toss, the Patriots drive 61 yards to the Raiders' 5 on the only possession of overtime. On third-and-goal, Vinatieri kicks his third field goal of the game, from 23 yards, with 6:31 left in the extra period to lift New England to its seventh straight victory. A disgruntled Woodson tells reporters after the game: "It was a B.S. call (on Brady's fumble/incomplete pass). The call should have never been changed. It's disappointing to this team that it came down to officiating."

Needing a victory to earn a first-round bye in the playoffs, the Raiders lose 24-22 to the New York Jets at Oakland in their regular-season finale on Jan. 6, 2002. John Hall kicks a 53-yard field goal with 59 seconds remaining as the Jets erase a 22-21 deficit. Oakland's Brad Daluiso makes field goals of 23, 44 and 37 yards, but he misses an extra-point attempt and a 28-yard field goal attempt. Despite gaining 337 total yards, the Raiders score only two touchdowns on six possessions inside the Jets' 27-yard line. The Jets clinch a wild-card playoff berth with their first victory at Oakland since 1962. With Oakland leading 22-21, Rich Gannon overthrows a wide-open Roland Williams on third-and-two from the Raiders' 37 with 2:23 remaining.

Defensive tackle Darrell Russell (right) is suspended for one year for violating the NFL's substance-abuse program.

The five-year veteran receives his latest suspension after testing positive for the drug Ecstasy, according to broadcast reports. "Darrell Russell's got a problem that's got to be dealt with," Raiders coach Jon Gruden tells reporters after the league announces on Jan. 2, 2002 that Russell has been suspended for the second time in less than five months. "I just hope he can deal with it. But the bottom line, this is devastating for a young guy at the top of his profession to have to go through this." Russell, 25, was suspended the first four games of the season for violating the league's substance-abuse program. He had 2 1/2 sacks and 31 tackles in 11 games before his second suspension.

The arch-rival Denver Broncos rally to beat the Raiders 23-17 at Denver on Dec. 30, 2001. With the Broncos leading 20-17, a 70-yard touchdown pass from Rich Gannon to Jerry Rice is negated by a tripping penalty on Raiders guard Frank Middleton with 5:12 remaining. What did Middleton think about the penalty? "Five years (in the NFL), and it is my first tripping call," he tells reporters afterward. "I guess it had to comer sooner or later. I was just playing football." The Raiders advance to the Broncos' 17-yard line in the final 16 seconds, but Denver holds on after Rich Gannon throws two incompletions and a third-down interception by safety Kenoy Kennedy in the end zone.

The Raiders set the foundation for an agonizing end to their season with an 18-15 loss to the Dolphins at Miami on Sept. 23, 2001. Quarterback Jay Fiedler scores on a 2-yard run with five seconds remaining to lift Miami past Oakland. It's the first of five losses this season for the Raiders when they blow a fourth-quarter lead.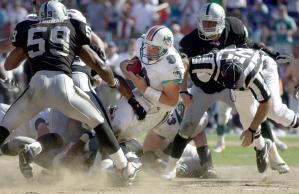 On the game-winning drive, Fiedler (right) hits five of six passes for 70 yards, including a 9-yard completion to wide receiver Dedric Ward on fourth-and-three from the Oakland 18. After Fiedler's dramatic touchdown, James McKnight runs for the two-point conversion as Miami avenges a 27-0 loss at Oakland in a 2000 AFC divisional playoff game. Raiders coach Jon Gruden elects to play the dreaded "prevent defense" on Miami's final drive. With Oakland rushing only three lineman, Fiedler has ample time to complete four straight passes for 61 yards to advance the football to the Oakland 19. The Raiders return to a four-man pass rush, but by then the game's momentum has changed in the Dolphins' favor.

Roll Call

Most Valuable Player

Rich Gannon passes for 3,828 yards and 27 touchdowns, earns his third straight Pro Bowl invitation and leads the Raiders to the playoffs for a second consecutive season. His 95.5 quarterback rating is second in the NFL behind Kurt Warner's 101.4. On the flip side, Gannon suffers seven of his nine interceptions over the final six weeks of the regular season when the Raiders go 2-4. Gannon, 36, is a leading NFL MVP candidate until Oakland's late-season slide.


Dancing in the Dark

Second-year kicker Sebastian Janikowski requires five stitches to close a head wound he sustains on a dance floor of a San Francisco nightclub early Oct. 8, according to published reports. The Associated Press reported that Janikowski fell at the Sno-Drift Bar due to "an apparent drug overdose." Paul Healy, the kicker's Florida-based agent, calls media reports that his client had overdosed "outlandish" and "totally false." Janikowski, 23, wasn't arrested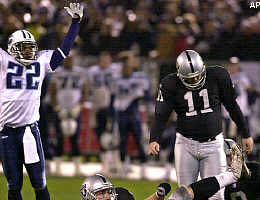 after the incident. After being treated and released at a hospital, he attends team meetings later in the day. It's the first of two off-the-field controversies for Janikowski (right) during the season. He reportedly spent two days in a hospital to be treated for a foot infection (cellulitis) the first week of January. Uncertain if Janikowski would be able to kick in the crucial regular-season finale against the New York Jets, the Raiders sign Brad Daluiso. Daluiso misses an extra-point attempt and a short field goal in the Raiders' 24-22 lost to the Jets. Janikowski has a strange journey on the field despite being one of the league's most accurate kickers. The Polish Cannon makes 21 of his first 23 field goal attempts, then inexplicably misses three of four kicks in a 13-10 loss to Tennessee and finishes the season by hitting his final six attempts.


Bench Warmer

Running back Tyrone Wheatley rushes for a mere 276 yards - a 770-yard dropoff from the previous season. The seven-year veteran loses his starting job after the season's second game and he doesn't ingratiate himself to coach Jon Gruden by coughing up fumbles in narrow victories over Indianapolis and Kansas City. Wheatley misses four games because of a knee injury and doesn't play in another (against San Diego on Dec. 15) although he is in uniform. To his credit, he never complains to the media about a reduced role. The Raiders lack an effective between-the-tackles running game for most of the season, the type of production Wheatley provided when he rushed for a career high 1,046 yards in 2000.


Nasty Cut

David Dunn is cut by the Raiders two days after he fumbles a punt return in overtime against the Arizona Cardinals. Dunn's turnover sets up Bill Gramatica's game-winning 23-yard field goal with 5:06 left in the extra period as Arizona stuns Oakland 34-31, snapping the Raiders' 10-game home winning streak.


Wiz Farewell Tour

Guard Steve Wisniewski, 34, announces his retirement two days after Oakland's season-ending loss to New England. The Wiz is the only Raiders offensive lineman to start all of the team's 18 games this season. The 13-year veteran made 162 straight starts and played in 205 consecutive games, all with the Raiders. Wisniewski was named to the Pro Bowl eight times, tying Raiders Hall of Famers Art Shell and Howie Long for second most appearances in franchise history.

Fast Facts
The Raiders are the first team to win back-to-back AFC West titles since the Denver Broncos in 1986-87.
---
With their 16-13 overtime loss to the New England Patriots, the Raiders have dropped five straight road playoff games. Their last road playoff win was a 34-27 victory at San Diego in the 1980 American Conference Championship game on Jan. 11, 1981. The Raiders are 3-11 in road playoff games.
---
Tim Brown joins Jerry Rice as the only two players in NFL history to reach 1,000 receiving yards nine straight seasons. Rice holds the league record of 11 straight seasons with 1,000 yards (1986-96). Brown and Rice are the first Raiders receivers to surpass 1,000 yards in the same season since Warren Wells (1,260 yards) and Fred Biletnikoff (1,037) in 1968. Brown had 1,165 yards and Rice 1,139 yards in 2001.
---
Charlie Garner leads the Raiders in rushing with 839 yards on 211 carries. It's the lowest output by a Raiders single-season rushing leader since Greg Robinson's 591 yards in 1993.
---
A year after leading the league in rushing (154.4 yards per game), the Raiders fall to 24th (103.4 yards).
---
Oakland squanders fourth-quarter leads in five of its seven losses (including postseason). The Raiders also are tied in the final quarter of an eventual 13-10 loss to Tennessee.

By The Numbers:
1: Touchdown catches by Tim Brown in the season's final seven games. He had nine touchdown catches in the season's first 11 games.

9: Interceptions by Rich Gannon, the fewest among NFL quarterbacks with a minimum of 350 passing attempts.

12: Raiders losses to the Denver Broncos in their past 14 regular-season games.

19: Oakland losses in December in 28 regular-season games since 1995.

27: Combined points of the Raiders' seven losses.

27: Sacks allowed by the Raiders, setting a new franchise record for the second straight year for a 16-game season. Oakland gave up 28 sacks in 2000, eclipsing the mark of 29 set in 1990.

Parting Shot
Contrary to popular belief, the Raiders' 2001 season didn't end when an apparent fumble by New England Patriots quarterback Tom Brady was ruled an incomplete pass. The Raiders were 5-6 in their final 11 games, including 1-1 in the playoffs. Championship-caliber teams play their best in the season's biggest games. After an 8-2 start, these Raiders went south - for myriad reasons.

Their downfall began with season-ending injuries to center Barret Robbins (Week 2) and defensive end Trace Armstrong (Week 3). The defense and offense took turns at being ineffective, and the kick coverage units allowed too many long returns. The three-game losing streak at the end of the regular season was inexcusable. Instead of rising to the occassion, the Raiders were holding on - barely - as they entered the postseason. After weeks of foundering, the Raiders erupted for 502 yards in total offense and 38 points en route to a first-round playoff victory over the New York Jets.

The following week in the snow and cold at Foxboro Stadium, the Raiders couldn't put away a determined Patriots team and they paid the consequence. Like

they had done in four of their previous six losses, the Raiders blew a fourth-quarter lead. When the outcome was at stake late in regulation and overtime, the Brady Bunch Patriots were the aggressor and rallied for a stirring victory. In the final, dramatic minutes of their season, the Raiders had no answer - with the exception of forcing the Brady fumble after a riveting hit by Charles Woodson. Unfortunately for Oakland, referee Walt Coleman overturned what would have been the game's signature play. Even after Coleman's controversial call, the game still was there for the taking for another 10 minutes. When the weary Raiders desperately needed a momentum-changing play, no one wearing silver and black stepped forward. And a once-promising season was history.
THE LAST WORDS:
"I am very proud of our football team. We overcame a lot. We answered the bell. We won another Western (division) championship. We lost some key players due to injury. But this team competed every week and put itself in position to win. What sticks with me the most? It's the grittiest football team I've ever been associated with."
Raiders coach Jon Gruden
---
Photos captions/credits:


The Partriots' Tom Brady (12) celebrates after scoring against the Raiders.

Jerry Rice catches one of his nine passes in a Raiders playoff win over the Jets.

New England's Tom Brady, center, fumbles after being sacked by Oakland's
Charles Woodson, right. Greg Biekert, left, recovers the fumble, but the play
is reviewed and ruled an incomplete pass on the Patriots' game-tying drive.

Sebastian Janikowski (11) reacts after missing a field goal against Tennessee.

Miami's Jay Fiedler is surrounded by Oakland defenders.

Tom Brady is pressured by the Raiders' Greg Biekert, left, and Charles Woodson.
Game photos by The Associated Press
Darrell Russell mug by NFL.com
Updated: 1-30-2002
OAKLAND RAIDERS RAP
Archives | Court | Home | Links | Schedule | Tickets