<! --BEGIN LEFT SIDE NAVIGATION-->


Archives

<!BEGIN MAIN BODY -->
OAKLAND RAIDERS RAP
Season In Review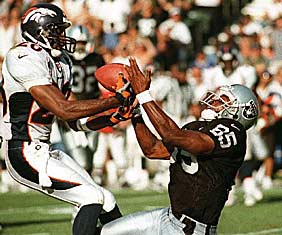 ---
The Raiders exhibited mettle, talent and maddening inconsistency during the 1999-2000 season. They began with a last-minute loss at Green Bay and finished with a stirring overtime victory at Kansas City. Playing a grueling schedule that included four games in 18 days, Oakland had an 8-8 record for the second straight year.

In a season of unmatched parity and unpredictability in the NFL, the Raiders earned the unofficial monicker of "The Big Tease."

They achieved upsets at Minnesota, Buffalo and Kansas City -- three of the league's most hostile playing environments. At home in mid-December, Oakland handed Tampa Bay a stunning 45-0 shellacking, ending the Buccaneers' six-game winning streak. The Bucs didn't lose again until the NFC Championship game.

On the flip side, the Raiders surrendered the lead in the fourth quarter in five losses. Breakdowns on defense, offense and special teams turned potential victories into deflating defeats. They were swept by the hated Broncos (again), finished fourth in the AFC West and missed the playoffs for the sixth straight year.

In the end, these Raiders should be remembered for providing their fans with hope, excitement and a mountain of ifa-coulda-shoulda-woulda-frustration. Here's a capsule analysis:
Top 5 Highlights


The Raiders open the new millennium with an in-your-face 41-38 triumph over the Kansas City Chiefs at Arrowhead Stadium on Jan. 2, 2000. Oakland rallies from a 17-0 deficit for its first win at Kansas
City since 1988. Joe Nedney (right), signed in mid-December, provides the winning points by kicking a 33-yard field goal 3:13 into overtime. He hits a 38-yarder with 45 seconds left in regulation to force the extra period. Oakland's Rich Gannon throws for 324 yards and 3 TDs against his former team. Gannon, who spent four years in Kansas City before signing a $16 million contract with Oakland, is cheered before and after the game by fans at Arrowhead Stadium. "Winning this game, against this team at this place, is really going to do a lot for this football team," Gannon said. "We can build on this." The bitter loss prevents the Chiefs from capturing the AFC West and advancing to the playoffs. It's only the third victory for Oakland over Kansas City in the past 21 games. Said Raiders coach Jon Gruden: "For us to move forward as an organization we had to beat the Chiefs."

Quarterback Rich Gannon earns a Pro Bowl berth in his first season with Oakland. He throws for 3,840 yards, the second best performance in franchise history (behind Jeff George's 3,917 in 1997). Gannon starts all 16 games despite wrist and groin injuries, finishes second in AFC passing and provides leadership.

The Oakland offensive line goes from from bad to respectable. The Raiders allow 49 sacks, their fewest since 1996 when they had 44. They led the NFL with 67 sacks in 1998 and surrendered 58 the previous year. The improved blocking helps Oakland rank third in the NFL in rushing (130.3 yards per game) and fifth in total yards (355.8). Free agent Barry Sims emerges as a capable starter at right guard, a position of weakness the previous two seasons. Sims also shows the versatility to play tackle. Because of an injury to Mo Collins, Sims starts at left tackle and doesn't allow a sack in Oakland's victory at Buffalo on Oct. 17. Collins, Sims and second-year reserve Gennaro DiNapoli complement veteran starters Steve Wisniewski, Barret Robbins and Lincoln Kennedy.

One week after an embarrassing home loss to Denver, the Raiders rebound with a 20-14 victory over Buffalo at Ralph Wilson Stadium on Oct. 17. Safety Eric Turner thwarts Flutie Magic when he intercepts a Doug Flutie pass in the end zone on the final play. Tyrone Wheatley has touchdown runs of 3 and 11 yards as Oakland builds a 20-7 advantage early in the second half. Wheatley (25 rushes for 97 yards) and Napoleon Kaufman (12 for 72) help the Raiders control the football for a whopping 39:35.

Tyrone Wheately and Napoleon Kaufman each rush for two touchdowns as the Raiders pound Tampa Bay 45-0 in Oakland on Dec. 19. The Oakland defense forces three turnovers, has four sacks and limits Tampa Bay to a mere 137 yards. The Bucs, who are 0-for-12 on third-down conversions, suffer their worst defeat in franchise history. It's the largest margin of victory for the Raiders since the AFL-NFL merger in 1970. Oakland defense end Lance Johnstone returns a fumble 24 yards for a touchdown, and Kaufman completes the onslaught with a highlight-film 75-yard touchdown run. Said Johnstone: "I wish we had 10 more games like this."
Biggest Disappointments


The Raiders miss the playoffs for the sixth straight year and don't have a winning record for the fifth consecutive season. Only the Cincinnati Bungals and the Browns/Ravens have a current longer playoff drought than the Raiders.

The Kansas City Chiefs defeat the Raiders 37-34 on Pete Stoyanovich's 44-yard field goal as time expires in Oakland on Nov. 28. The Chiefs score the final 17 points after the Raiders build a 34-20 advantage entering the fourth quarter. Kansas City cornerback Cris Dishman returns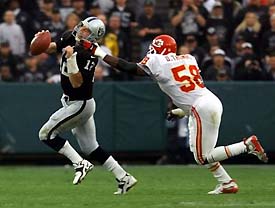 a Derrick Walker fumble 40 yards for the tying touchdown with 6:24 remaining. After Oakland's Michael Husted is wide left on 44-yard field goal attempt, Elvis Grbac drives Kansas City 39 yards to set up Stoyanovich's winning kick. Before collapsing in the fourth quarter, the Raiders play arguably their best game since returning to Oakland from Los Angeles in 1995. Quarterback Rich Gannon (left) passes for two touchdowns and scores another on a 6-yard run while cornerback Charles Woodson returns a Grbac interception 15 yards for a touchdown. Said Woodson: "For us to lose that game is beyond me. The Chiefs didn't do anything that great to beat us." Kansas City improves to 18-2 vs. Oakland during the 1990s.

Michael Husted continues the floundering recent tradition of Oakland place-kickers. Husted is replaced by Joe Nedney for the final three games after the former Tampa Bay kicker misses two 32-yard field goal attempts in Oakland's 21-14 loss at Tennessee on Dec. 9. Husted also is unsuccessful on makeable field goal tries in close losses to Green Bay, Denver and Kansas City. He misses 11 of 31 field goal attempts, including three from 32 yards and another from 37.

The previously winless Denver Broncos beat the Raiders 16-13 in Oakland on Oct. 10. Cornerback Tory James (photo, top of the page) seals Denver's first victory of the season after four losses when he intercepts a Rich Gannon pass at the Broncos' 23 with 57 seconds remaining. James gets the turnover after the ball bounces off the hands of Oakland receiver Terry Mickens. Despite being ravaged by injury, Denver defeats Oakland for the eighth time in nine games. The Raiders allow six sacks and average a pitiful 2.3 yards on 24 running plays. After the game ends, Broncos defensive end Neil Smith taunts Raiders fans as he holds a sign with the inscription: "Look at the score."

The Raiders suffer a 16-9 loss to Miami before an announced crowd of 61,556 fans at Network Associates Coliseum on Oct. 31. Oakland surrenders five sacks, gains only 187 yards and fails to score a touchdown for the first time in 26 regular-season games. Playing despite a broken bone in his left wrist, quarterback Rich Gannon completes only 7 of 28 passes for 130 yards. He has eight straight incompletions in a dreadful 1-for-12 first half. The Dolphins beat the Raiders for the third straight year in Oakland.

Roll Call


Most Valuable Player(s)

Time and again, quarterback Rich Gannon and wide receiver Tim Brown (left) combine for a clutch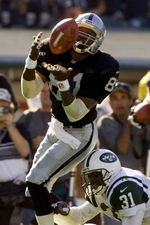 play to keep the Raiders offense afloat. Remember the fourth-and-12 in Oakland's penultimate drive in the season finale at Kansas City? Under a heavy Chiefs pass rush, Gannon cooly steps up in the pocket before zipping a 20-yard pass to a diving Brown for a first down that leads to the tying field goal to force overtime. It's the signature play of the Raiders' cardiac season. Gannon and Brown rank among the NFL statistical leaders in their respective categories. Gannon throws for 24 touchdowns, second in the AFC; Brown ties Minnesota's Cris Carter for fourth in the league with 90 receptions. Gannon and Brown are chosen for the 2000 Pro Bowl.

Born To Run

Tyrone Wheately resurrects his NFL career by rushing for 936 yards and 8 touchdowns. He shatters his previous single-season rushing high of 583 yards with the New York Giants in 1997. The Raiders reward Wheately with a $10 million, three-year contract extension in December. Wheatley puts an exclamation point on his comeback season by breaking seven tackles en route to a 26-yard touchdown reception in Oakland's season-ending win at Kansas City. Viola!

Disappearing Act

After starting the season's first eight games at strong-side linebacker, free agent K.D. Williams is benched in Week 10 and released Dec. 14.

A Good Catch

Fullback Jon Ritchie finishes second on the team with 45 receptions, six more than wide receiver James Jett and tight end Rickey Dudley. Ritchie had 29 catches as a rookie in 1998.

Downward Spiral

Leo Araguz averages 40.1 yards on 76 punts. His average was 43.4 yards in 1998 and 45.0 the previous year.

Did You Know?
The Raiders lose eight games by a total of 34 points.
---
The Raiders are second in the AFC and third in the NFL in rushing offense, averaging 130.3 yards. Tyrone Wheatley and Napoleon Kaufman combine for 1650 yards rushing. Jacksonville's highly regarded tandem of James Stewart and Fred Taylor have 1663 yards.
---
Oakland's Charles Woodson is voted a starting cornerback to the 2000 AFC Pro Bowl team despite having only one interception and getting beaten on several pass plays.
---
The Raiders are plus 4 in turnover margin (33 takeaways, 29 giveaways). They have a positive turnover margin for the first time since 1989. Oakland was minus 8 in 1998.
---
The Raiders out-score their opponents 151-71 in the third quarter. The bad news is opponents hold a 107-67 edge against Oakland in the fourth quarter.

Parting Shots
Jon Gruden (left) will be under close scrutiny when the Raiders embark on their 2000-2001 season.

While the Raiders have improved in many areas under his direction during the past two years, they still lack the resolve to get into the playoffs. Gruden reportedly has one year remaining on his contract as Oakland head coach, with the team holding an option to extend the agreement an additional year. Raiders czar Al Davis showed little patience with Gruden's predecessors, Joe Bugel and Mike White. Bugel was fired after one dreadful season (4-12) in 1997, while White (15-17) was on a two-year leash before being dismissed. The vultures will be chomping for fresh meat next season if Gruden doesn't end the Raiders' six-year playoff drought.
A deteriorating relationship between Willie Shaw and Jon Gruden reportedly led to Shaw's departure from the Raiders after two years as their defensive coordinator. At the 2000 Pro Bowl in Honolulu, Oakland cornerback Charles Woodson told reporters: "There was a rift, and it developed as time went on. No, I'm not surprised (by Shaw's firing)." Shaw told Bay Area reporters he was fired Jan. 10 in a meeting with Gruden and club executive Bruce Allen. The Raiders said they chose not to re-hire Shaw so he could pursue a head-coaching job. Shaw found employment as assistant head coach/linebackers coach with Kansas City. Shaw was the first assistant hired by Gruden after he became the Raiders head coach in February 1998. Shaw's defense played inconsistently in 1999. Oakland ranked 12th in passing yards allowed (207.6 per game) after being fourth (179.8) in 1998. Gruden promoted Chuck Bresnahan from defensive backs coach to defensive coordinator to replace Shaw.
The Raiders haven't had a winning record against the AFC West since going 5-3 in 1993. Oakland was 3-5 in division games this season and 14-26 since 1995.
THE LAST WORDS:
"There's some good things that occurred this year that we're going to build on for our future. But you're 8-8. You're the worst of the best or the best of the worst, however you want to look at it. I think if you're a football fan, your perception of this team is that they're pretty good -- a pretty ornery bunch of players. They're going to fight you and they're going to play every Sunday."
Raiders coach Jon Grunden
---
Photos:


Denver's Tory James steals a pass from Terry Mickens (85)

Joe Nedney, left, is congratulated by Leo Araguz after
Nedney beats Kansas City with a field goal in overtime

Rich Gannon (12) tries to elude the late Derrick Thomas (58)

Tim Brown (81) makes a catch against the Jets

Jon Gruden mug
Game photos by The Associated Press
---
Updated: 2-16-2000
OAKLAND RAIDERS RAP
Archives | Court | Home | Links | Schedule | Tickets