<! --BEGIN LEFT SIDE NAVIGATION-->


Archives

<!BEGIN MAIN BODY -->
OAKLAND RAIDERS RAP
1998 Season Review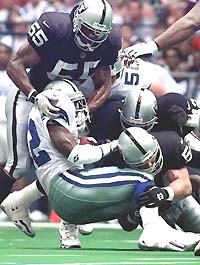 ---
The Raiders established a seed of promise during their 1998 season. First-year coach Jon Gruden developed a positive attitude, discipline and camaraderie. Gone was the finger-pointing of the previous three years. Gone was the sideline chaos from unsuccessful coaching regimes of Joe Bugel and Mike White. Instead, Gruden's Raiders showed resiliency and fortitude despite mounting injuries. Their 8-8 record was a four-win improvement from the abyss of 1997. Here's a capsule anaylsis:
Top 5 Highlights

The Raiders vault from last to fifth in NFL total defense, surrendering an average of 284.4 yards. It's a dramatic improvement from 1997, when Oakland was 30th in yards allowed (382.2). If the league gave a Coordinator Of The Year award, Oakland defensive guru Willie Shaw would be a landslide winner.
Rookie cornerback Charles Woodson contributes five interceptions, including a 46-yard return for a touchdown against Arizona's Wunderkind Jake "The Snake" Plummer. The 1997 Heisman Trophy winner from Michigan was third on the Raiders with 64 tackles and had 21 passes defended. During the first half of the season, opposing offenses shied away from Woodson and tried to complete passes against right cornerback Eric Allen, a six-time selection to the Pro Bowl. After Allen was lost for the season because of a knee injury in mid-November, teams challenged Woodson more often with only a modicum of success. Allen and Woodson shared the team lead with five interceptions. "Charles has been as good of corner as I've seen all year in the AFC," Oakland coach Jon Gruden said. Woodson is a superior athlete, confident and demanding. The cornerback chided some teammates for lackluster effort following a loss to Washington on Nov. 29. "I play hard and I play to make things happen," he said. "I live for interceptions." Woodson, 22, was chosen 1998 Associated Press NFL Defensive Rookie of the Year on Jan. 4. "This is a great honor for Charles," Gruden said. "We look forward to him having a great career with the Raiders." Woodson said: "I give myself a B-minus. I played pretty good, but I didn't do a lot of the little things I could have done, as far as watching more film, doing a lot more studying. I pretty much played off of athletic ability."
An ESPN-TV audience watches the Raiders dismantle the Seahawks 31-18 in the Kingdome on Nov 1. Backup quarterback Donald Hollas throws touchdown passes to Tim Brown and Rickey Dudley while Oakland forces five turnovers, including a 74-yard interception return for a touchcown by safety Albert Lewis.
Third-string quarterback Wade Wilson rallies the Raiders to a 7-6 victory over San Diego at Network Associates Coliseum on Oct. 11. Oakland seems destined for a third-stright home loss to San Diego until Wilson's dramatic 65-yard touchdown pass to James Jett with 1:28 remaining. Wilson, who replaced a struggling Donald Hollas early in the fourth quarter, throws incomplete on his first six attempts before connecting for the game-winner.
Greg Davis kicks a 38-yard field goal with 21 seconds remaining as the Raiders edge Seattle 20-17 at Network Assoicates Coliseum on Nov. 15. Desmond Howard scores on a 63-yard punt return, his first return for a touchdown since coming to Oakland in 1997. The Raiders improve to 7-3, their best start since going 8-2 in 1995.
Biggest Disappointments
The Raiders miss the playoffs for the fifth straight season. Oakland closes with a 2-6 record after going 6-2 over the first eight games
Oakland suffers its annual two-game flogging by rival Kansas City. The hated Chiefs overcome a two-touchdown deficit for a 31-24 victory at Oakland on Dec. 26. The loss prevents the Raiders from achieving their first winning season since 1994. Kansas City is 17-2 against Da Silver and Bleak this decade.
Denver scores 23 unanswered points in the fourth quarter to beat Oakland 40-14 at Mile High Stadium on Nov. 22. The Raiders narrow the deficit to 17-14 in the third quarter before the Broncos turn three three interceptions by Donald Hollas into touchdowns over the final 11:50. It's the first of four straight losses for Oakland.
Miami forces seven turnovers en route to a 27-17 thrashing of Oakland before a crowd of 61,254 at Network Associates Colsieum on Dec. 6. Donald Hollas throws six interceptions, one short of tying Ken Stabler's club record set in 1977.
Baltimore defeats the Raiders, 13-10, at Camden Yards on Nov. 8. The loss ends Oakland's five-game winning streak. Starting quarterback Jeff George has a brief return to the lineup before aggravating a groin injury on the Raiders' first possession. He had missed all or parts of the previous four games. The Ravens are 2-0 against the Raiders in their three-year history. They're 14-26-1 against the rest of the league.
Roll Call

Most Valuable Player

Eric Allen -- The Raiders defense went from outstanding to mediocre after Allen suffered a season-ending knee injury against Seattle on Nov. 15. With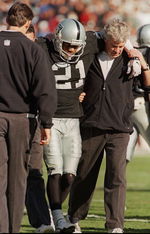 Allen starting at right cornerback through the first 10 games, Oakland had a 7-3 record, made 17 interceptions and surrendered an average of 17.5 points. The Raiders went 1-5, had four interceptions and allowed an average of 30.1 points during his six-game absence. Allen and rookie Charles Woodson were among the NFL's top cornerback tandems. With Allen and Woodson shutting down the opposition's best wide receivers, the Raiders blitzed safeties Eric Turner, Anthony Newman or Albert Lewis more frequently. Allen's injury had a major impact on Oakland's pass coverage, pass rush and overall defensive schemes. Cornerbacks Marquis Walker, Bucky Brooks and Perry Carter were erratic in passing situations trying to compensate for Allen's loss. Oakland also no longer had the luxury to blitz the safeties or use them for run support because they were needed to shore up deficiencies in the secondary. With Allen in the lineup, the Raiders were an aggresive and formidable defense. Without him, they became conservative and vulnerable. Before tearing his left anterior cruciate ligament, Allen had missed only one of 170 games during his 11-year NFL career with Philadelphia, New Orleans and Oakland. He's expected to make a full recovery before the start of training camp in July.

A Cut Above

Greg Biekert -- The unassuming six-year veteran is the Raiders' best inside linebacker since Matt Millen. Biekert reached double-digit tackles in each of the season's final three games. And against Kansas City in the season-finale, he made consecutive tackles on running back Bam Morris for no gain on first-and-goal at the Oakland one. Biekert has been the Raiders' leading tackler in three of the past four seasons. He received the 1998 Gorman Trophy, given to the team's most valuable player determined by a vote of the players.

Underachiever Of The Year

Rickey Dudley -- The third-year tight end has become frustrated about his secondary role as a receiver in Jon Gruden's offense, according to media reports. If Dudley held onto the ball when passes came his way, maybe his number would have been called more often. Backup tight end Derek Brown was a more reliable receiver in the final weeks of the season than Dudley, who caught 12 fewer passes this year than in 1997.

Can't Stand The Pain

(tie) Eric Turner and Napoleon Kaufman -- Turner was having a Pro Bowl caliber-season when he tore ligaments in his right foot against San Diego on Oct. 11. The starting free safety never saw action again. Kaufman rarely flashed his explosiveness after spraining his left ankle at Arizona on Oct. 4. The three-year starter missed the final three games because of a groin injury. Kaufman is a proven talent, but he must expand his pain threshold to remain an every-down back.

Best Coach You Never Heard Of

Mike Waufle -- Oakland's first-year defensive line coach earned his stripes. The Raiders' Lance Johnstone and Darrell Russell combined for 21 sacks. They were the only tandem in the AFC to reach double digits in sacks. Johnstone ranked fourth in the conference with 11 sacks while Russell was seventh with 10. More evidence of Waufle's influence. Oakland's No. 3 tackle Grady Jackson emerged as a quality run-stopper while reserve Chuck Osborne was getting increased playing time before he suffered a season-ending knee injury against San Diego on Oct. 11. Waufle came to the Raiders from nearby Cal-Berkeley, where he tutored NFL first-round draft choices Regan Upshaw (Tampa Bay) and Duane Clemons (Minnesota).

Did You Know?
Oakland's Jon Gruden equalled the number of victories (eight) as Mike Shanahan and Marty Schottenheimer had in their first seasons as head coaches with the Denver Broncos and Kansas City Chiefs, respectively
The Raiders are an NFL worst 8-24 in the second half of the season for the past four years. They are winless in their past five regular-season finales.
The Raiders led the NFL in turnover margin with a plus eight after their win at Seattle on Nov. 1. They finished tied for 25th with a minus 8. Oakland was 7-0 when it committed fewer turnovers than the opposition.
Greg Davis made a league-low 63.0 percent (17 of 27) on field goal attempts. He missed all four tries of 35 yards or closer. An Oakland placekicker has ranked last in NFL field goal accuracy for the past two seasons. Cole Ford held the dubious honor in 1997, when he converted 13 of 22 attempts for an abysmal 59.0 percent. Maybe George Blanda could be coaxed out of retirement.
The Raiders lost all or part of 59 player games from nine starters during the season.
Parting Shots

The Raiders have surrendered 125 sacks the past two years. They led the NFL with 67 sacks allowed this season. Center Barret Robbins, guard Steve Wisniewski and tackle Mo Collins are solid on the left side, but the right side is inconsistent with guards Derrick Graham or Darryl Ashmore and tackle Lincoln Kennedy. NFL greats Walter Payton or Joe Montana couldn't have a Pro Bowl season behind Oakland's offensive line.


Jeff George remains an enigma after nine seasons and three teams in the NFL. He came to the Raiders proclaimed as a savior and left unwanted. He has a 37-70 record as a starter, including 7-15 with Oakland. The Raiders replaced George in February 1999 with Rich Gannon, predominantly a backup during his first 11 NFL seasons. In 1997, George had Pro Bowl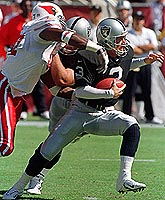 caliber statistics (29 touchdown passes, 3,917 yards passing with only nine interceptions), but the Raiders floundered with a 4-12 record. This past season, he struggled to grasp the offense implemented by new Oakland coach Jon Gruden before being sidelined because of a torn groin in Week 5. According to published reports, there was a consensus among Gruden and team owner Al Davis not to re-sign George. Let the body (quarterback) rest in peace. Another bad free-agent hire by Dirty Al. Cornerback Larry Brown passed the mantle to returner/receiver Desmond Howard, who handed off to the beleaguered George. As quarterback busts go, George shares a dubious place in Silver and Bleak history with Jay Schroeder and Todd "Weed" Marinovich.


The Raiders should release Greg Davis and bring in a new placekicker. Davis struggled in the second half of the season after winning three games with kicks against the New York Giants, San Diego and Seattle. He also was a bust on kickoffs.


The Raiders are a work in progress. Oakland made positive strides on defense this season, but there's still inconsistency throughout the team. Offensive line, quarterback, running back, linebacker and special teams need upgrading for the Raiders to rise above mediocrity.

---
Photo credits:
Game photos by The Associated Press
Charles Woodson mug by NFL.com
OAKLAND RAIDERS RAP
Archives | Court | Home | Links | Schedule | Tickets