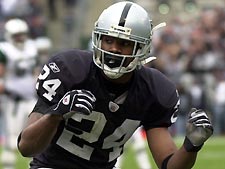 Woodson Back In
Silver and Black


Defensive back Charles Woodson, who helped lead the Raiders to three AFC West titles and a Super Bowl berth during the early 2000s, signed a one-year contract with Oakland on May 21. The Raiders confirmed the signing on their website, raiders.com

Woodson, 36, reportedly received a $1.8 million salary from the Raiders, with a $700,000 signing bonus and a maximum worth of $4.3 million. The Denver Broncos reportedly offered Woodson a $3.7 million, one-year deal.

Woodson was the fourth overall choice by Oakland in the 1998 NFL draft. The former University of Michigan All-America spent eight seasons (1998 to 2005) with the Raiders before signing as a free agent with the Green Bay Packers.

Kicker Sebastian Janikowski is the only player left on the roster from Woodson's eight seasons in Oakland that included three straight AFC West titles, two AFC title games and a trip to the Super Bowl following the 2002 season.

Since the 2002 season, the Raiders have not had a winning season.

Woodson's strong relationship with Raiders general manager Reggie McKenzie played a role in the two sides consummating a deal. McKenzie and Woodson spent six seasons together with the Packers where McKenzie worked in the team's front office. Woodson also reportedly met with the Broncos and 49ers.

"After talking to Reggie, I got a good feel about how he felt about the team and that just really gave me confidence that they're going in the right direction," Woodson told reporters May 23. "Going into the facility yesterday, I felt good about where things stood, and if I signed I was going to be going to a team that has good players on the team. The game is about fundamentals and playing good football, and they have some good players, and if we can put it together then we'll win games."
Woodson, right, was released by Green Bay reportedly in a salary-cutting move Feb. 15, with two years remaining on his contract. The 1997 Heisman Trophy winner spent seven seasons with the Packers, helping them win the Super Bowl at the end of the 2010 season.
Woodson, an eight-time Pro Bowler and 2009 NFL Defensive Player of the Year, has 55 career interceptions, 17 sacks, 24 forced fumbles and 11 interception returns for touchdowns in 206 career games.
"I'm just going to bring the intensity," Woodson told reportes May 23. "I'm a football player so I'm going to bring a lot of intensity, somebody that's passionate about the game, and a guy that knows how to make plays. That's what I'm going to bring.
"I think when guys watch me play, I think that raises the level of other guys because of the way I play the game. I'm going to bring that mindset, that mentality to the game, the same as I always have and have fun doing it."
Raiders coach Dennis Allen told reporters: "Charles has that swagger, and I think he can bring some of that to our football team — not just defensively, but to the whole team in general."
Woodson told reporters he has fully recovered from a broken collarbone that sidelined him for nine games during the 2012 regular season. The 15-year veteran also suffered a broken collarbone during Green Bay's 2011 Super Bowl win over Pittsburgh.
"Collarbone's fine," he said.
Woodson is expected to replace the departed Michael Huff at free safety. Huff, who wore Woodson's No. 24 jersey in seven seasons in Oakland, signed with the Baltimore Ravens after the 2012 season. Veteran cornerback Tracy Porter currently is assigned No. 24 with the Raiders.
"Raider Nation has me back but I don't know if they'll have me back without the 24 on my back," Woodson said.
Updated: 5-23-2013
Contributing: Associated Press &
Contra Costa Times
OAKLAND RAIDERS RAP
Archives | Court | Home | Links | Schedule | Tickets