Raiders Choose Turner
Norv Turner, the only coach to lead the Washington Redskins to a division title the past 12 seasons, was named Raiders coach Jan. 26, 2004.
Turner (right) replaces Bill Callahan, who was fired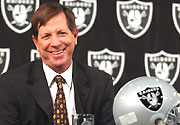 Dec. 30 - two days after Oakland completed a 4-12 season. Turner, 51, had a 49-59-1 regular-season record as coach of the Redskins from 1994-2000. He spent the last two seasons as the offensive coordinator of the Miami Dolphins. Turner, the sixth Raiders' head coach since 1994 and 14th in franchise history, reportedly signed a three-year contract with two option years.
"I just thought it was the right fit," Raiders managing general partner said at a news conference at the team's Alameda, Calif. headquarters. "Everything that we need at this particular time, we will rely on Norv to help us with."
Said Turner, who grew up in nearby Martinez, Calif.: "I belong here. When I got off the plane the other night, I felt like I was coming home. I feel like I'm home now."
Turner's appointment comes on the one year anniversary of the Raiders' 48-21 loss to Tampa Bay in Super Bowl XXXVII.
Davis reportedly interviewed at least five candidates - Al Saunders, Dennis Green, Greg Knapp, Sean Payton, Maurice Carthon - before meeting with Turner on Jan. 24. Patyon reportedly was close to being hired by the Raiders, but he decided to remain with the Dallas Cowboys.
Of the Raiders' previous eight head coaches, Turner is only the second (Joe Bugel was the other in 1997) hire with previous head coaching experience. Turner joins Jon Gruden and Mike Shanahan as the only Raiders head coaches to be hired without any previous playing or coaching experience in the organization. Turner, an NFL coach for 19 seasons, also is the fifth former quarterback to coach the Raiders out of Davis' past eight hires.
"Three years from now, two years from now ... one year from now there will be a determination whether we we're right (in hiring Turner) or not," Davis said. "We think we are right."
Turner is expected to implement a power running game and play-action passing. He also plans to call his own plays, a role Callahan shared with offensive coordinator Marc Trestman the last two seasons. The Raiders employed a "West Coast" (short passing game) offense under Gruden and Callahan the past six seasons.
Turner inherits a roster with several aging veterans led by quarterback Rich Gannon and wide receivers Tim Brown and Jerry Rice. The Raiders' new coach also must restore discipline that was sorely lacking this past season. The Raiders led the league in penalties, and had numerous breakdowns in execution that led to a 4-12 season - equaling the team's second worst record since 1962.
"The No. 1 thing is everyone in the organization - coaches, players, everyone involved - we have to be accountable," Turner said. "We have to be accountable to each other and we've got to understand that we're all counting on each other."
With a 10-6 record in 1999, the Turner-led Redskins won their first NFC East title since 1991. Washington advanced to the divisional round of the playoffs before losing 14-13 at Tampa Bay. The Redskins finished the regular season ranked second in the league in total offense.
In 2000, the Redskins had a 7-6 record when Turner was fired by second-year team owner Daniel Snyder with three games remaining in the regular season. Under Turner, the Redskins went 3-13, 6-10, 9-7, 8-7-1, 6-10, 10-6 and 7-6 (Washington had a 1-2 record for interim coach Terry Robiskie in the final three games of 2000).
The Redskins are 21-30 since Turner's dismissal.
"There's always perception and there's always reality," Turner told Bay Area reporters. "I took over a team that the first year of the (salary) cap was $17 million over the cap. It was a team that had been in the Super Bowl two years previously, and those players were gone. In two years, we were 9-7. The last five years I was there, we had four winning seasons.
"When we signed (quarterback) Brad Johnson, when we finally got a veteran quarterback, we were 10-6, won the division, won a playoff game. When I left Washington, we were 7-6. They haven't had a winning season since I left."
In 2001, Turner was the offensive coordinator of the San Diego Chargers. Under his tutelage that season, Chargers rookie running back LaDainian Tomlinson rushed for 1,236 yards, quarterback Doug Flutie threw for 3,464 yards and Curtis Conway had 1,125 receiving yards on 71 catches.
With Turner as their offensive coordinator, the Dallas Cowboys won Super Bowl titles in 1992 and 1993. The former Oregon quarterback was an assistant coach at Southern Cal for nine seasons (1976-84). During that time, the Trojans won four Rose Bowls and five of six bowl appearances.
Former Cowboys coach Jimmy Johnson and Rams coach Mike Martz (who worked under Turner in Washington) reportedly encouraged Davis to hire Turner. Former Cowboys quarterback Troy Aikman told Bay Area reporters: "Jimmy Johnson was a tremendous football coach. But I don't doubt for a minute that if Norv had not come in, we wouldn't have won the Super Bowls we did, and I'm not the only one who feels that way."
Updated: 1-26-2004
OAKLAND RAIDERS RAP
Archives | Court | Home | Links | Schedule | Tickets