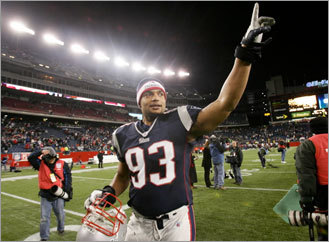 Raiders Get Seymour


The Raiders traded for New England five-time Pro Bowl defensive lineman Richard Seymour in exchange for a 2011 first-round draft choice, the Patroits announced Sept. 6, 2009. In his first eight NFL seasons, he helped the Patriots win three Super Bowl titles.

Seymour, who turns 30 Oct. 6, reportedly is signed through the end of the 2009 season. The nine-year veteran is scheduled to earn $3.685 million this season. At 6-feet-6, 310 pounds, he has the versatility to play defensive end or tackle in a 4-3 alignment and defensive end in a 3-4.

"It's pretty self-explanatory what he brings," Raiders cornerback Stanford Routt told reporters Sept. 6. "He has championship-type of intelligence, comes from the Patriots, so he, obviously, knows football. He's a beast coming off that edge. … He's going to bring a lot."

Seymour, right, started 105 of 111 games with New England and recorded 39 career sacks. In 2008, he started 15 games and contributed 63 total tackles with 34 solo stops, and equaled a career high with eight sacks.
His arrival in Oakland is expected to be a major improvement for a struggling Raiders defense that allowed a league-worst 192.0 rushing yards per game during the 2009 exhibition season. The Raiders have had the NFL's worst run defense the past six seasons, allowing 147.1 rushing yards per game and a whopping 122 rushing touchdowns.
"That's the biggest reason we're getting him," Raiders coach Tom Cable told reporters. "His versatility brings a lot to the table. Getting a quality player that's done a lot as a run-player and as a pass-rusher in the 3-4. And he's proven over the last several years that he's a terrific run player."
Said Raiders defensive tackle Tommy Kelly: "He brings a lot of versatility to the defense. Plus, if we can't stop the run now … Me, him and (Gerard Warren) out on the field together, it definitely upgrades us."
Seymour was selected sixth overall in the 2001 NFL Draft by New England. The former University of Georgia star was named to the Pro Bow five straight times, from 2002 to 2006.
He helped contribute to six division championships, four conference titles and the aforementioned three Super Bowl crowns. His five Pro Bowl appearances are the most by any Patriots defensive lineman since the 1970 AFL-NFL merger
"From nearly the day he arrived in 2001, Richard Seymour established himself as one of our premier players for nearly a decade," Patriots coach Bill Belichick said on the team's Web site, patriots.com. "His presence has been felt as a force on the field, a respected man off it and a multi-year champion.
"Any transaction we make is with the goal of what is best for our team and, as difficult as it is to part ways with a player of Richard's stature, many factors were taken into account when we considered this trade."
This is the second trade between the American Football Conference teams in two months. The Raiders sent defensive end Derrick Burgess to the Patriots on Aug. 6 in exchange for 2010 third- and fourth-round draft picks. The teams have made seven trades since 2005, most notably a 2007 deal that jettisoned wide receiver Randy Moss from Oakland to New England.
The Associated Press reported that Seymour would play defensive right end for Oakland and move over to tackle in certain passing situations. Former Dallas Cowboy Greg Ellis and second-year player Trevor Scott are expected to share time at left defensive end.
Updated: 09-06-2009
Photo credits:
NFL.com
&
The Boston Globe
Contributing:
The Associated Press
&
Contra Costa Times
OAKLAND RAIDERS RAP
Archives | Court | Home | Links | Schedule | Tickets