Running On Empty
There are two sides to Jon Gruden leaving the Oakland Raiders. Those who consider Gruden a young Vince Lombardi believe Raiders owner Al Davis made a monumental mistake by letting the former Raiders coach escape to the Tampa Bay Buccaneers on Feb. 18, 2002. Conversely, Davis supporters point to the enormous ransom - four high draft picks and $8 million - he extracted from the desperate Bucs management to release Gruden from the final year of his Raiders contract.
Both sides have valid points.
The bottom line: Gruden wanted out of Oakland.
Two days after the Raiders' 2001 season ended, Gruden's agent, Bob LaMonte, told Bay Area reporters that his client wouldn't sign a contract extension beyond next season after Gruden's contract expired. Davis had two choices: Keep Gruden around for a lame-duck season and receive no compensation for his services, or make a trade before the popular coach walks after 2002.
Davis decided on the future rather than short term - he put his aging yet still talented team in position to improve and get younger over the next three years. The Bucs agreed to give the Raiders 2002 first- and second-round draft picks, a 2003 first-round pick and a 2003 second-round pick. The accompanying cash will help sign those draft picks.
It's the richest compensation for a head coach in league history. Consider this: The compensation for Mike Holmgren, Bill Parcells and Bill Belichick was six draft picks, including two No. 1's, two No. 2's, a No. 3 and a No. 4.
The Raiders' Davis, a.k.a. Big Al, made out like a bandit.
The Bucs, who fired then head coach Tony Dungy on Jan. 14, didn't balk at the hefty price for Gruden because they acquired a proven coach with fan and media appeal. Now the onus is on the former Philadelphia Eagles offensive coordinator to prove he's worth his new $3.5 million per year salary (fourth highest among current NFL coaches). If he stayed with the Raiders, Gruden would have earned a reported $1.4 million salary for 2002.
Many Raiders fans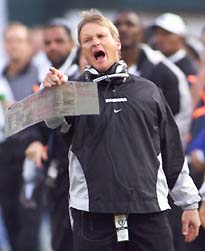 mourn the loss of Gruden (below) like a death in the family. These same people don't look at salient facts. Gruden had two winning seasons in four years with the Raiders. He was 40-28 overall but only 7-10 in December regular-season games, a time when his team should have been playing its best heading into the postseason. In the 2001 season, the Raiders were predictable on offense and shaky on defense. They surrendered fourth-quarter leads in five of their seven losses and finished the season with six losses in the final 11 games. On the flip side, the fiery coach led Oakland to its second straight AFC West title despite the loss of center Barret Robbins and defensive end Trace Armstrong early in the season because of injury. And you can make a strong argument that the Raiders were one blown call (in the snow at Foxboro, Mass.) away from the Super Bowl.
Gruden has shown he can lead a team to the playoffs, but he must win a Super Bowl before being considered a great coach.
During Raiders games the past four seasons, Gruden was boffo entertainment for television cameras. He roamed the sidelines at full throttle -- sometimes pumping his fists in celebration, sometimes anguishing in disappointment. His grimaces were compared to Chucky, the murderous doll with a crazy stare from the horror movie "Child's Play."
Win or lose, Gruden treated Raiders fans to a wild and joyous ride. After the dark days of former Oakland coaches Mike White and Joe Bugel during the mid-1990s, Coach Chucky was the driving force in returning the team dressed in silver and black to the playoffs. His passion and charisma was infectious to the players he coached, Raiders fans and media.
Make no mistake, Gruden will be missed and hard to replace.
Updated: 2-23-2002
OAKLAND RAIDERS RAP
Archives | Court | Home | Links | Schedule | Tickets

---