Brown Outta Here
Tim Brown entered his 17th training camp with the Raiders expecting to be the team's No. 3 wide receiver behind starters Jerry Rice and Jerry Porter. After a meeting with managing general partner Al Davis on Aug. 3, Brown knew his playing career as a Raider was over.
The next day at a hastily called news conference, Brown and Davis discussed Brown's imminent release from the Raiders (he was released Aug. 5). Making a rare public appearance, the black-clad Davis told reporters at the team's Napa, Calif. training camp facility:
"Tim is one of the truly great players to play in the NFL. Unfortunately, days like these come upon us. Days like these are not happy days, but they are inspirational.
"I personally, and the Raider people think that Tim Brown can still play professional football in the National Football League. This is not case where we think he should retire, nor did we ever suggest that he retire as a Raider. That was never the question."
Brown, selected to a Raiders franchise-high nine Pro Bowls, said: "This is a a very emotional day for me. I gave my heart and soul to this organization. I have fought the battle as much as I possibly could on the field, and tried to restore the image off the field."
Brown (right)

reportedly decided to sever ties with the only NFL franchise he has played for after his lengthy meeting with Davis. At the time, Davis told the final member of the Los Angeles Raiders that he would be the fourth or fifth receiver on the depth chart. The Raiders are high on three young receivers - Doug Gabriel, Ronald Curry and Alvis Whitted - all of whom need a chance to develop.
"I didn't want to be a distraction," Brown told reporters Aug. 4. "I think those guys (teammates) have great respect for me, and I think you lose some of that if you accept a role where you're not playing ... when you've played at the level I've played at, it's tough to be on the sidelines waving a towel."
Brown, 38, ranks second in NFL history with 14,734 receiving yards and third with 1,070 catches. His 99 receiving touchdowns are tied for fourth with Don Huston.
Despite Brown's glittering career statistics, his release comes as no surprise after he contributed only 52 catches for 567 yards in 2003. The 1987 Heisman Trophy winner from Notre Dame also averaged 10.9 yards per catch, the second-lowest of his 16-year career. Further proof of his decline is that he scored only two touchdowns each of the past two seasons after combining for 20 TDs in 2000 and 2001.
"I feel good, man," Brown said. "The last couple of years I really had off. Thanks to Mr. Rice and Mr. Porter, I really haven't had to do that much the last couple of years. I can still play this game."
During his glory days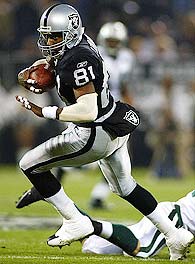 with the Raiders, Brown (below) had nine straight 1,000-yard-plus receiving seasons (1993-2001) and led the team in receiving 11 times. The future Hall of Famer has an active streak of catching at least one pass in 173 straight games - second longest in league history behind Rice's 273. Brown holds Raiders franchise records for most receptions in a season (104 in 1997), career receptions (1,070), touchdowns (104), receiving touchdowns (99), games played (240) and all-purpose yards (19,434).
Brown is only one of three players in league history - Rice and Cris Carter are the others - to reach 1,000 career catches.
"It's been an incredible, incredible great run," Brown said. "Certainly I will miss wearing the Silver and Black, but what you miss is the relationships you have with people. That's going to be the most difficult part of moving on. But I'm a big boy. I've got my tears out."
Davis said: "He played in Los Angeles and he played in Oakland. In both places, he embellished what I like to call 'the greatness of the Raiders.' We've had many great players, but there are certain players you fall for. It's tough to lose him."
Brown's next destination could be with the Tampa Bay Buccaneers or Denver Broncos. Both team's head coaches - the Bucs' Jon Gruden and the Broncos' Mike Shanahan - previously coached Brown during their time with the Raiders. The Broncos signed Brown to an $11 million free-agent contract in 1994, but the Raiders matched the offer.
"This won't be the end of Tim Brown. I'll surface somewhere else," Brown said wishfully. "I just want an opportunity to play."
Updated: 8-6-2004
OAKLAND RAIDERS RAP
Archives | Court | Home | Links | Schedule | Tickets