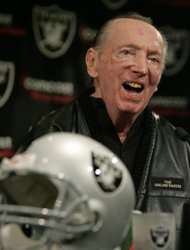 Al Davis Dies
Al Davis, the iconic face of the Raiders for almost five decades, died Oct. 8, 2011 at his home in Oakland, Calif. He was 82.
The Raiders confirmed Davis' death on the team's website, raiders.com. The cause of death was not disclosed.
Davis, born July 4, 1929, is survived by his wife, Carole, and son, Mark. Carole reportedly will become the franchise's majority stockholder and Mark is expected to be in charge of team operations.
Davis was one of the most important and controversial figures in pro football history — from his role in the development of the American Football League, the merger with the rival NFL and the success he built on the field with the Raiders.
National Football League commissioner Roger Goodell called Davis, the Raiders' longtime managing general partner, a "true legend" of the game.
In 49 years with the Raiders, Davis served as head coach, general manager and owner. His Raiders won three Super Bowl titles and he was embroiled in contentious courtroom battles with the league. He served a brief stint as AFL commissioner in 1966.
"Al Davis's passion for football and his influence on the game were extraordinary," Goodell said in a statement. "He defined the Raiders and contributed to pro football at every level. The respect he commanded was evident in the way that people listened carefully every time he spoke. He is a true legend of the game whose impact and legacy will forever be part of the NFL."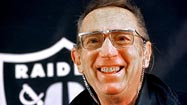 During the 1980s, Davis, right, went to court — and won for the right to move his team from Oakland to Los Angeles. Even after he moved the Raiders back to the Bay Area in 1995, he sued the NFL for $1.2 billion to establish that he still owned the rights to the L.A. market.
"Al Davis was a good man, and we were friendly rivals," Steelers chairman emeritus Dan Rooney said in a statement. "He was a football man and did a lot for the game of football. I had a lot of respect for him, and he will be missed throughout the entire NFL."
At the time of Davis' passing, the Raiders were in Houston preparing to play the Texans on Oct. 9. He reportedly did not appear at a single training camp practice this summer and missed a game in Buffalo last month. He reportedly is believed to have missed only three games since joining the Raiders as coach in 1963.
"As he became older, he developed some health problems, and he just couldn't be out there each and every practice, like he used to be. That's too bad. But we all age, and things change," former Raiders quarterback Jim Plunkett told reporters in Houston on Oct. 8. "But he never lost his love and his fire for the game. Just sitting in the box with him, even though he couldn't speak loudly, this year, he'd get his point across, telling everyone that they shouldn't have done this or they should've done that. He wasn't yelling anymore. But he was still into it."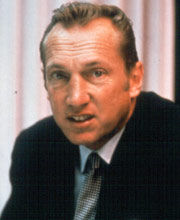 Elected in 1992 to the Pro Football Hall of Fame, Davis, right, was a trailblazer. He hired the first black head coach of the modern era — Art Shell in 1988. He hired the first Latino coach, Tom Flores; and the first woman CEO, Amy Trask.
"During this indescribably difficult time, let us all reflect upon what it means to be a Raider — let us all reflect upon how privileged we are to be Raiders — and let us all be Raiders," Trask reportedly wrote in an email to team employees on Oct. 8.
"Forty eight years ago, I met Al, and every once in a while in your life, someone comes along that changes the direction of your life," Flores told reporters in Houston on Oct. 8. "He did that to me and changed the direction with his passion for the Raiders and professional football. He was a dear man, my mentor and most of all, my friend. I will miss him."
For decades, the Raiders were among the NFL's most successful teams, living up to Davis' trademark mottos of "Commitment to Excellence," "Pride and Poise" and "Just win, baby." From 1967 to 1985, the team won 13 division titles, one AFL title (1967) and three Super Bowl titles (XI, XV and XVIII).
Since going to the Super Bowl following the 2002 season, the Raiders have not had a winning record. They were 37-91 from 2003 to 2010.
"He's one of the greatest sports icons ever," Raiders cornerback Stanford Routt told reporters in Houston. "He will be greatly missed. He believed in me, he lived for us, now we have to play for him."
Said quarterback Jason Campbell: "Definitely shocking news for us. We got here last night and then you wake up this morning and hear we lost our owner, the man who built this team for many, many years, it's tough to take in as a team. We understand what he meant to this organization. He loved his players, and that didn't matter if you were here now, or if you played for him 30 years ago. He still loved all his players."
Even those who feuded with Davis remembered his positives. Hall of Fame running back Marcus Allen was the most valuable player in the Raiders' last Super Bowl win in 1984. But the former Southern Cal star later was ordered to be benched for two seasons by Davis and ultimately released after the 1992 season for reasons never made clear. Davis' only comment to reporters: "He was a cancer on the team."
"It's a sad day," Allen told The Associated Press on Oct. 8. "When you look at the landscape of the National Football League and what Al Davis did, it's immense.
"It's no secret that we didn't see eye-to-eye at times, but I've always been grateful for the opportunity that he gave me, and I'll always remember that."
Contributing: The Associated Press
Top photo credit:
Associated Press 2009
Updated: 10-08-2011
OAKLAND RAIDERS RAP
Archives | Court | Home | Links | Schedule | Tickets