Raiders Choose WR


Bypassing more heralded players, the Raiders selected Maryland wide receiver Darrius Heyward-Bey with the seventh overall choice in the 2009 NFL Draft on April 25. Heyward-Bey, 22, is the first receiver taken by the Raiders with a first-round pick since Tim Brown in 1988.

"This is the guy we wanted all along," Raiders coach Tom Cable told Bay Area reporters after Heyward-Bey's selection. "As I said probably about a month ago, there's one guy in the draft who makes our entire team better. … This was the choice that we thought we had to have to move this team to the next step."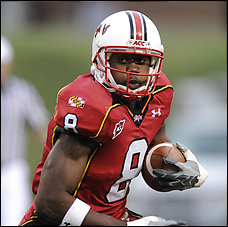 The Raiders picked the 6-foot-2, 210-pound Heyward-Bey, right. ahead of Texas Tech's Michael Crabtree and Missouri's Jeremy Maclin, considered the top receivers in the draft. Crabtree, who had 231 career receptions and 41 career touchdown catches in only 26 games, was taken 10th by the 49ers. Maclin, who contributed 102 receptions and and 13 touchdown catches in 2008, was chosen 19th by the Eagles.
Heyward-Bey had career lows of 42 catches for 609 yards to go along with five touchdowns as a Maryland junior in 2008. The Silver Springs, Maryland native finished his three-season Terrapins career with 138 receptions for 2,089 yards, 13 TDs and a 15.1 yards per catch average.
"I don't know why I moved ahead of those guys, but definitely the Raiders saw something in me," Heyward-Bey told reporters after his selection by Oakland. "I feel like I had the qualities to be the best receiver in the class. I know people look at the stats and everything, but just playing in the pro-style offense and having the skills and being able to be taught and listen and work hard, I felt like I was definitely at the top.
"At Maryland, what we do is, we run the ball to set up the pass. I'm the type of receiver, I catch, block, hustle and just work hard. So in college you didn't see those numbers but, definitely, at the next level you're going to see a little bit more."
Heyward-Bey reportedly was the fastest receiver at the NFL Scouting Combine in February, running the 40-yard dash in 4.3 seconds. Raiders managing general partner Al Davis has a history of coveting speedy receivers.
Heyward-Bey, who has a 381⁄2-inch vertical leap, was rated the third top receiver and 13th best overall player by Pro Football Weekly.
Cable called the Heyward-Bey selection a "no-question pick" and said scouts compare Heyward-Bey to former Raiders receiver Randy Moss.
In his three college seasons, Heyward-Bey averaged 46 receptions for 696 yards and four touchdowns.
"This is a guy that I had targeted a month ago," Cable said. "He's the one guy who has made everyone better around him. We needed the ability to throw the ball over people's head, and JaMarcus has obviously shown he can outthrow most everything. This is a guy now who can go run that down and catch it."
A big-play receiver reportedly was among the Raiders' top priorities entering the draft. Johnnie Lee Higgins led all Oakland wideouts with 22 catches in 2008. Higgins and Chaz Schillens finished the 2008 season as Oakland starters. Veteran Javon Walker, who sustained a broken ankle during the 2008 season, and Arman Schields also could be in the mix.
2009 Raiders draft capsules
For more on this year's NFL Draft:
nfl.com | nfldraftscout.com
Updated: 04-25-2009
OAKLAND RAIDERS RAP
Archives | Court | Home | Links | Schedule | Tickets