<! --BEGIN LEFT SIDE NAVIGATION-->

Archives

2007 Season Review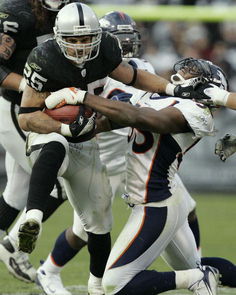 ---
Lane Kiffin's first season as Raiders coach has positives and negatives. With a 4-12 record in 2007, the Raiders double their wins from the previous season. They end an NFL-record 17-game division losing streak.

The Raiders are competitive in the majority of their games. The players play hard for Kiffin and don't surrender to adversity — a trademark of recent Oakland teams.

Six of the Raiders' losses are by seven points or less.

The Justin Fargas-led running game finishes sixth in the league in rushing (130.4 yards per game). Fargas, top photo, earns a starting role midway through the season and responds with a career-high 1,009 rushing yards.

Now the flip side.

The passing game struggles with Josh McCown and Daunte Culpepper taking turns at quarterback. JaMarcus Russell, the top overall pick in the 2007 draft, plays sparingly after a 48-day holdout. The high-profile rookie quarterback doesn't make his first start until the season finale.

The Raiders defense, expected to be the team's strength entering the season, is a shell of its former self. A year after ranking fourth in total yards allowed, the Raiders finish 22nd (341.6 yards) in the same category. Oakland ranks 31st in run defense (145.9) and 26th (398/24.9) in points allowed.

The Raiders are second in the league in penalties (120) and first in average yards per rush (4.8) allowed.

They give up the lead in the fourth quarter in five of their losses.

The Raiders have too many deficiencies to avoid a franchise-record fifth straight losing season.

Here's a capsule review of Oakland's 2007 season:

Biggest Surprises

RB Justin Fargas — Emerges as a featured back, rushing for a career-high 1,009 yards before sustaining a season-ending sprained right medial collateral ligament against the Colts in Week 15. The five-year veteran rushes for a career-high 179 yards on 22 carries against Miami in Week 4.

TE Zach Miller — Finishes with 44 catches for 444 yards and three touchdowns, the most receptions in a season by a Raiders rookie. Tim Brown previously held the record of 43 catches in 1988.

S Hirham Eugene — Beats out incumbent Stuart Schweigert at starting free safety during the final weeks of the season. Eugene, who starts five of the last six games, finishes with 31 total tackles, 22 solo.

Biggest Disappointments

The Raiders finish the 2007 season ranked 22nd in total defense, allowing 341.6 yards per game and 398 points. The season before, they ranked fourth in total defense (284.8 yards per game) and surrendered 332 points.


Top draft pick JaMarcus Russell, right, has little impact on Oakland's season. After a lengthy contract holdout, the former Louisiana State quarterback completes 36 of 66 passes for 373 yards and two TDs with four interceptions and two lost fumbles in only four games.

LaMont Jordan goes from lead running back to bench warmer. The seven-year veteran has only 125 rushing yards on 60 carries after hurting his back during the first half against Miami in Week 4. Before getting hurt, Jordan has 424 rushing yards on 84 carries. The former New York Jet is inactive for four of the season's final eight games.

Fast Facts

The Raiders end an NFL-record 17-game division losing streak with a 20-17 win at Kansas City in Week 12. They beat an AFC West opponent for the first time since a 25-24 victory at Denver on Nov. 28, 2004.
---
The Raiders have back-to-back wins against AFC West opposition for the first time since the final two games of the 2002 season when they beat Kansas City (20-17) and Denver (34-20) in Weeks 12 and 13.
---
Shane Lechler wins the NFL's 2007 gross and net-yardage punting titles. He joins the 49ers' Andy Lee in becoming the first punters to net 40 yards or more in a season since the league started keeping track of the stat in 1976. Lechler netted 41.1 yards a punt followed by Lee at 41.0. The previous record was 39.9 by Mike Horan of the New York Giants in 1993. Lechler led the NFL with a a 49.1 yard gross average followed by Lee at 47.3.
---
With a 50-yard field goal during the first quarter of Oakland's loss at Tennessee in Week 8, Sebastian Janikowski sets a franchise record for career field goals. The Polish Cannon breaks Chris Bahr's previous club record of 162 field goals. Janikowski finishes the season with 23 field goals in 32 attempts, giving him a club-record 179 career field goals.
---
With 139 rushing yards against Kansas City in Week 12, Justin Fargas becomes the first Raiders running back to reach 100 rushing yards against the Chiefs in Arrowhead Stadium since Arthur Whittington had 134 yards on Nov. 5, 1978.
---
The Raiders' 49-11 loss at Jacksonville in Week 16 is their largest margin of defeat in a regular-season game since a 44-0 loss to San Diego in 1961, two years before managing general partner Al Davis joined the franchise as head coach/general manager in 1963. The Raiders' previous worst loss in a regular-season game under Davis' watch was a 55-21 defeat to the Chargers in 1981.
---
According to an annual survey by Forbes magazine, the Raiders franchise is valued at $812 million, fifth lowest among the NFL's 32 teams. The Dallas Cowboys are first at $1.5 billion. The NFL average team worth is $957 million, up 7 percent from 2006.

By The Numbers:

2-17: The Raiders' record the past 19 road games.
2-18: Oakland's record against AFC West opposition the past 20 games.
4: Victories in Lane Kiffin's first year as Oakland coach, tying Joe Bugel (1997) for the fewest wins for a first-year Raiders coach.
5: Raiders losses after holding the lead in the fourth quarter.
6: Interceptions by Oakland's Thomas Howard, the most for a linebacker since Baltimore's Ray Lewis had six in 2003.
19-61: The Raiders' win-loss record the past five seasons, the worst record among the NFL's 32 teams over that span.
19.5: Sacks by DT Warren Sapp in four seasons with the Raiders. The seven-time Pro Bowler reportedly informed the Raiders on Jan. 3 that he was retiring from the NFL as a player after 13 seassons, the first nine with Tampa Bay.

The Last Words

"This isn't going to happen again. We're not going to be 4-12. We're going to play better. We're going to play our style of ball. We're going to attack free agency. We're going to attack the draft. We're going to do whatever it takes."

Raiders coach Lane Kiffin
"If that was the last time Raiders fans got a look at Warren Sapp on the field, I wanted it to be something special."
Raiders DT Warren Sapp
"We're moving in the right direction. There's a lot of stuff that's going to change, like it does every year. Just regroup, get new guys on board and, hopefully, we'll make a run."
Raiders OT Barry Sims
---
Photos captions/credits:


Raiders RB Justin Fargas (25) tries to break
the grasp of Broncos LB D.J. Williams.
By The Associated Press

Raiders QB JaMarcus Russell (2)
tries to elude Broncos defenders.
By The Sacramento Bee
---
Updated: 2-1-2008
OAKLAND RAIDERS RAP
Archives | Court | Home | Links | Schedule | Tickets