Raiders Get Texas DB
The Raiders selected Texas safety Michael Huff with the seventh overall choice in the 2006 NFL draft on April 29. The 6-foot, 204-pound Huff has the versatility to play cornerback or safety. He started primarily at strong safety during his four seasons with the Longhorns.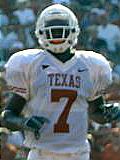 Huff (right) returned four of his seven career interceptions at Texas for touchdowns. In help leading the Longhorns to the 2005 national title, he contributed a career-high 109 tackles — including 10 for loss. He also forced four fumbles, recovered two fumbles, deflected 14 passes and had two interceptions. Huff finished his college career with a Texas record five defensive scores (four interceptions, one fumble recovery).
As a senior, Huff was a consensus first-team All-America and became the first Texas player to win the Jim Thorpe Award as the nation's top defensive back.
"We feel really good about this kid," Raiders coach Art Shell told reporters after Oakland selected Huff. "He's a kid that has outstanding range (and) coverage ability. He's an outstanding tackler. He's a smart guy. We just feel that he's going to come in and make an impact this year."
Many media mock drafts in the past weeks had Oakland choosing a quarterback with its top choice. USC's Matt Leinart was available when the Raiders picked at No. 7, but Oakland opted for the hard-hitting Huff. Leinart was chosen by the Arizona Cardinals with the 10th overall choice.
The decision to bypass Leinart leaves veteran Aaron Brooks as Oakland's projected starting quarterback for the 2006 season. Brooks signed with Oakland in March after playing the past six seasons with the New Orleans Saints. The eight-year veteran is expected to hold off the challenge of backups Marques Tuiasosopo and Andrew Walter during training camp and the four-game exhibition season.
"With the three quarterbacks we have now, we feel like we're in pretty good shape," Shell said.
Huff, 23, was rated the sixth best prospect and top cornerback in the draft by Pro Football Weekly. The native of Irving, Texas was ranked the 10th best prospect and top strong safety available by USA Today Sports Weekly. He reportedly ran a 4.35-second 40-yard dash.
"I feel like I can play anything, play anywhere," Huff told Bay Area reporters in a conference call after being chosen by Oakland. "I'm more of a Troy Polamalu (Steelers) kind of guy who kind of does everything — blitz, can cover and play deep in coverage. Whatever the defense needs, that what I'm going to go out there and do."
Shell said: "We really don't want to define his role right now. We have a lot of good football players here, but we'll find a place for him. He'll fit right in. He has the ability to cover wide receivers, he has the ability to cover tight ends, so there's a lot of things he can do."
Oakland also used its first-round choice in 2005 on a defensive back, choosing Nebraska cornerback Fabian Washington with the 23rd overall choice. Since 2001, seven of the team's eight first-round selections have been defensive players, including five defensive backs.
In the second round of the 2006 NFL draft, the Raiders selected Texas-El Paso outside linebacker Thomas Howard with the 38th overall choice. As a senior, the 6-foot-3, 225-pound Howard contributed 85 tackles (seven for loss), three sacks and an interception.
The Raiders completed the first day of the 2006 draft by selecting Weber State offensive lineman Paul McQuistan in the third round (69th overall). Although he started four years at offensive tackle, the 6-foot-6, 313-pound McQuistan is expected to switched to guard, where the Raiders have a lack of depth.
For more 2006 NFL draft coverage: NFL.com
2006 Raiders draft capsules
Updated: 4-29-2006
OAKLAND RAIDERS RAP
Archives | Court | Home | Links | Schedule | Tickets