Here's a capsule review:

Top 5 Highlights


The Raiders advance to their first Super Bowl in 19 years with a 41-24 triumph over the visiting Tennessee Titans in the AFC Championship Game on Jan. 19, 2003. Fourth-quarter touchdown runs by Rich Gannon (2 yards) and Zack Crockett (7 yards) seal the deal for Oakland after Tennessee narrows the deficit to 27-24 late in the third quarter. Gannon is masterful as he completes 29 of 41 passes for 286 yards and three touchdowns with no interceptions.

Rich Gannon is named the 2002 NFL Most Valuable Player. Gannon throws for 4,689 yards - falling 395 yards short of tying Dan Marino's NFL single-season NFL record of 5,084 yards. The Oakland quarterback sets league single-season records for completions (418), 300-yard games (10) and consecutive 300-yard performances (six). Gannon joins Marcus Allen (1985) and Ken "The Snake" Stabler (1974) as the only Raiders to win the Associated Press MVP award.

Coach Bill Callahan demonstrates he's a worthy successor to media-darling Jon Gruden. Callahan's offensive strategy sets the foundation for Oakland ranking first in total yards (389.8 per game) and passing yards (297.7). The Raiders lead the league in total offense for the first time since 1970. Most important, his low-key demeanor is a refreshing change for many Oakland veterans from the high-intensity environment created by Gruden.

The Raiders crush the rival Broncos 34-10 in Denver on Nov. 11, 2002. Rich Gannon throws for 352 yards and three touchdowns as Oakland snaps a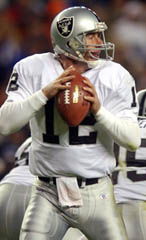 four-game losing streak and beats the Broncos in Denver for the first time since 1994. Gannon (left) completes 34 of 38 passes, including a league-record 21 in a row, against the seemingly mesmerized Denver defense. Jerry Rice, who has nine catches for 103 yards and two touchdowns, sets two milestones in the 500th regular-season game of "Monday Night Football." The former 49ers' great becomes the first NFL player with 200 career touchdowns on a 6-yard scoring catch late in the second quarter. With a 34-yard touchdown catch early in the fourth quarter, Rice sets the league record for all-purpose yards with 21,817 yards, 13 more than the late Walter Payton. Broncos coach Mike Shannahan suffers his most lopsided loss in 16 regular-season games against the Raiders.

Free safety Rod Woodson contributes the signature play of Oakland's season when he returns a Brian Griese interception 98 yards for a touchdown late in the first quarter to give the Raiders a 10-0 lead. Cornerback Charles Woodson tells reporters after the Raiders end a seven-game road losing streak to the Broncos: "You hear all the time about how we can never win in Denver, that it's a curse. We wanted to show we could win here and also get back on track. What a great stepping stone."

With a third-quarter catch for 6 yards against the New York Jets on Dec. 2, 2002, Tim Brown joins teammate Jerry Rice and Cris Carter as the only NFL players with 1,000 career receptions. One play after Brown's milestone catch, Rice scores on a 26-yard reception to give Oakland a 13-10 lead en route to a 26-20 victory.
Biggest Disappointments


The Raiders lose 48-21 to the Tampa Bay Buccaneers in Super Bowl XXXVII in San Diego on Jan. 26, 2003. Rich Gannon (right) throws a Super-Bowl record five interceptions, is

sacked five times and has an abysmal 48.9 quarterback rating. Oakland's top-ranked offense (389.8 yards per game) gains only 62 yards in the first half as the Bucs build a 20-3 lead. Wide receiver Tim Brown, a 15-year veteran, epitomizes the Raiders' frustration by contributing only one catch for 9 yards. He tells reporters after Tampa Bay's victory: "We couldn't have beaten the worst team in the league today. We stunk it up. And a game like this, the only way to win is to play your best game." Says Gannon: "I had a terrible night. I wish I didn't. You never want to have a night like that."

The morning of Super Bowl XXXVII, Raiders' Pro Bowl center Barret Robbins (right) is dismissed from the team for disciplinary reasons. The eight-year veteran reportedly missed meetings and a walk-through practice

at Qualcomm Stadium the day before the game. At a news conference three days after the Super Bowl, Raiders coach Bill Callahan said that Robbins "wasn't in the physical or mental state to play a game." Robbins' agent, Drew Pittman, released a statement Feb. 3 saying that his client was suffering from bipolar disorder and that alcohol played a role in Robbins' disapperance. Bipolar disorder is a condition caused by a chemical imbalance in the brain. It is known to affect a person's behavior, "including the abuse of alcohol or other substances," according to Pittman's statement.

The Raiders suffer a 23-20 overtime loss to the visiting San Francisco 49ers, Oakland's fourth straight defeat after starting the season with four consecutive victories. After the Raiders' Charlie Garner deadlocks the score 20-20 on a 10-yard touchdown run with 6:33 left in the fourth quarter, the 49ers run 30 consecutive plays on their final two drives. Place-kicker Jose Cortez is wide left on a 27-yard field goal attempt as time expires in regulation on the 13th play of a 45-yard drive. After San Francisco wins the coin toss before overtime, quarterback Jeff Garcia leads a 17-play, 73-yard drive culminated by Cortez's 23-yard field goal 6:19 into the extra session. The Raiders' Rich Gannon throws for a season-low 164 yards after equaling a league record of 300 or more yards passing in six straight games.

Oakland cornerback Charles Woodson, considered among the league's elite players, has an injury-plagued season for the second straight year. Woodson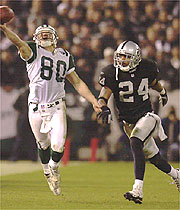 (right) misses eight of 16 regular season games because of shoulder and leg injuries. After having a metal plate inserted into his right leg to stabilize a cracked fibula Dec. 24, 2002, the five-year veteran struggles in two of three Oakland postseason games. During the week of Super Bowl XXXVII, he tells reporters in San Diego: "It's tough knowing I'm not the player I want to be out there on Sunday. But that's not my concern right now. This is the Super Bowl. I'm going to go out there and give everything I've got." Woodson intercepts the Bucs' Brad Johnson on the game's first drive, but the Oakland cornerback is burned for a touchdown on a 5-yard pass from Johnson to Keenan McCardell late in the first half.

Roll Call


Offensive MVP

Rich Gannon throws for a franchise-record 4,689 yards and 26 touchdowns with only 10 interceptions during a spectacular regular season. For those who want to trash him for his Super Bowl meltdown, consider this: Gannon has led the Raiders to three straight division titles and a 33-15 regular-season record since 2000.

Defensive MVPs

Free safety Rod Woodson (8 interceptions, 3 fumble recoveries) and linebacker Eric Barton (124 tackles, 6 sacks, 3 forced fumbles, 2 interceptions) repeatedly are opponent drive-stoppers.

Ready For Combat

Linebacker Bill Romanowski (right) sets the tone for Oakland's defense even before the regular season starts. The former 49er, Eagle and

Bronco receives an unsportsmanlike penalty for ripping off Eddie George's helmet in an exhibition game against the Tennessee Titans. No longer wanted as a starter by the rival Broncos, Romo quickly becomes a hit with his new teammates and fans in Oakland. The 15-year veteran contributes 90 total tackles, four sacks and one interception. When the Raiders' defensive players are introduced before the AFC title game, Romanowski is greeted by a thunderous ovation at Network Associates Coliseum.

Mr. Versatility

Running back Charlie Garner is the only NFL player to exceed 900 yards rushing (962) and receiving (941) during the 2002 regular season. He scores a club-high 11 touchdowns (7 rushing, 4 receiving) and has a career-high 91 receptions. Tampa Bay's ability to suffocate Garner in Super Bowl XXXVII (he has 10 yards rushing and 51 yards receiving on 7 catches) is one of the pivotal matchups in deciding the game's outcome.

Yellow Parade

The Raiders rank second in penalty yards (1094) behind the Minnesota Vikings (1139). The expansion Houston Texans (1011) rank third. The league average is 863.9 penalty yards. Oakland is third with 129 penalties behind the Vikings (137) and Texans (136).

Rising Star

No. 3 wide receiver Jerry Porter has a team-high nine touchdowns catches and 51 receptions for 688 yards. The third-year player from West Virginia almost single-handedly lifts the Raiders to a 30-10 victory over the visiting New York Jets in an AFC divisional playoff game. Porter scores the go-ahead touchdown on a 29-yard pass from Rich Gannon late in the third quarter and then sets up a game-clinching touchdown on a 50-yard reception.

Sack Master

Defensive tackle Rod Coleman leads NFL defensive interior lineman with 11 sacks (the Buccaneers' Warren Sapp is second with 7.5 sacks). Coleman is the only defensive tackle to rank among the league's top 33 players in sacks.

Splitting The Uprights

Sebastien Janikowski establishes himself as one of the league's premier kickers. The Polish Cannon leads the AFC with 128 points (second all-time in Raiders history behind Jeff Jaeger's 132 in 1993) and has a league-high 22 touchbacks. Janikowski makes 25 of his final 27 field-goal attempts (including 6 of 6 postseason.)

Fast Facts
Bill Callahan is the first Raiders coach to win two playoff games in his rookie season. John Madden (1969) and Art Shell (1990) each had 1-1 postseason records in their first full year as Raiders coach.
---
The Raiders (3-2) are one of four teams to play in five Super Bowls. The others: 49ers (5-0), Steelers (4-1), Redskins (3-2) and Dolphins (2-3).
---
Wide receiver Tim Brown has 930 receiving yards, ending his streak of nine consecutive seasons of 1,000 or more receiving yards. Brown and teammate Jerry Rice are the only two players in NFL history to reach 1,000 receiving yards nine straight seasons. Rice holds the league record of 11 straight seasons with 1,000 yards (1986-96).
---
The Raiders are the first team to win three consecutive AFC West titles since the San Diego Chargers 1979-81.
---
Oakland is the first team in league history to win games in the same season throwing 60 or more times (65 vs. Pittsburgh in Week 2) and rushing 60 or more times (60 vs. Kansas City in Week 17).

By The Numbers:
4: Oakland victories in five December games. From 1995 through 2001, the Raiders were an abysmal 8-20 in December-January regular-season games.

8: Interceptions by safety Rod Woodson. It's the most interceptions by a Raider since 1991 when Ronnie Lott also had eight.

10: Rushing touchdowns (including postseason) by short-yardage specialist Zack Crockett.

15: Players on Oakland's 2002 53-man roster who are more than 30 years old. The 1972 Washington Redskins had 16 players over 30 on their Super Bowl VII team, which lost 14-7 to the Dolphins.

25: Postseason wins for the Raiders, tying the 49ers for second all-time behind the Cowboys' 32 victories.

148.1: Average rushing yards allowed by the Raiders in their seven losses (including postseason). They ranked third against the run (90.8 yards per game) in the 2002 regular season.

4,689: Passing yards by Rich Gannon, second all-time behind Dan Marino's 5,084 yards in 1984.

Parting Shot
The week of Super Bowl XXXVII is a trying time for Raiders managing general partner Al Davis. The day before the game, former Raiders running back Marcus Allen is voted into the Pro Football Hall of Fame. Allen spent the final years of his L.A. Raiders' career as a backup or bench warmer after falling into disfavor with Davis. The morning of the game, Oakland Pro Bowl center Barret Robbins is barred from the team after missing meetings and practice the day before. At the very least, the Robbins situation disrupts the focus of a team hours away from playing for a championship.

At the start of Super Bowl XXXVII, Davis' former coach, Jon Gruden, is leading cheers and barking instructions on the opposite sideline. Over the next four

hours, Gruden's Tampa Bay Buccaneers dismantle Davis' Raiders. When Davis (right) traded Gruden's contract rights to the Bucs for four high draft choices and $8 million in February 2002, Davis was lauded by media for extracting a king's ransom in exchange for a lame-duck coach. In retrospect, Bucs ownership paid a pittance to secure the services of one of the NFL's premier coaches. The sight of Gruden and Tampa Bay players celebrating their Super Bowl triumph on the victory stand at Qualcomm Stadium signaled one of the darkest hours in Davis' 40-year tenure with the Raiders franchise.
The Last Words
"I was shocked we didn't play the game we were capable of playing. It was our worst game."
Bill Callahan on Super Bowl XXXVII
"I really don't see the difference between being second place or 32nd place."
Raiders LB Eric Barton
"It's more disappointing than I ever thought it could be. I can't put it into words. I thought this was our year."
Raiders OT Lincoln Kennedy
"My name will always be linked to Super Bowl XXVVII. At least I can say I made it here once."
Raiders WR Tim Brown
---
Photos captions/credits:


Eric Barton (50) celebrates a sack against the Broncos.


Rich Gannon looks for an open receiver against Denver.


The Bucs' Simeon Rice (87) sacks Rich Gannon.


Charles Woodson (24) covers the Jets' Wayne Chrebet.


Bill Romanowski shows a little fire.


Al Davis looking for his way to a courtroom.
Game photos by The Associated Press
Barret Robbins mug by NFL.com
Updated: 2-14-2003
OAKLAND RAIDERS RAP
Archives | Court | Home | Links | Schedule | Tickets