<! --BEGIN LEFT SIDE NAVIGATION-->

Archives

<!BEGIN MAIN BODY -->
OAKLAND RAIDERS RAP
Season In Review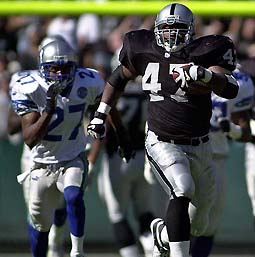 For the Oakland Raiders, the lasting images of the 2000 season are pain and accomplishment.
The Raiders won their first division championship in a decade. They made the playoffs for the first time since 1993. At 12-4, they had their first winning record since returning to Oakland in 1995.
A victory away from Super Bowl XXXV, the Raiders suffered a 16-3 loss to the Baltimore Ravens in the AFC Championship Game at Oakland. For the Raiders players, coaches and fans, euphoria was replaced by disquieting reality.
"It's hard to look back on a season's success when you just got slapped in the face on your home court," quarterback Rich Gannon told the media after Baltimore eliminated Oakland. "It was a pretty humbling experience." Added cornerback Charles Woodson: "This is the lowest I've ever felt as an athlete. To come this far and stop like this ... it's the finality of the whole situation."
Despite the loss to the eventual Super Bowl champion Ravens, the Raiders still had an uplifting journey in this breakthrough season. Most important, they carved a new reputation. Escaping years of mediocrity, Oakland earned a place among the NFL's upper-echelon teams.
Here's a review:
Top 5 Highlights


Playing their first playoff game in Oakland in two decades, the Raiders defeat the Miami Dolphins 27-0 before an announced crowd of 61,998 fans at Network Associates Coliseum on Jan. 6, 2001. Oakland cornerback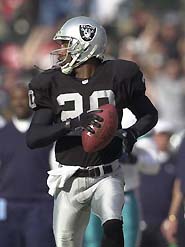 Tory James (right) returns a Jay Fielder interception 90 yards for a touchdown on Miami's first possession. The Raiders build a 20-0 advantage by halftime on two Sebastian Janikowski field goals (36 & 33 yards) and a 6-yard touchdown pass from Rich Gannon to James Jett. Tyrone Wheatley's 2-yard run early in the third quarter caps the scoring. Miami's Lamar Smith is held to eight yards rushing on four attempts -- one week after he runs for 209 yards in a wild-card playoff win over Indianapolis. Oakland's defense has three interceptions (two by James) and a fumble recovery. The divisional-round victory catapults the Raiders to their first AFC Championship Game since the 1990 season. Said Raiders coach Jon Gruden: "I've never seen anything like that today. This place was rocking. It was a pleasure to coach with that kind of support. Our players fed off of it. I mean it was awesome."

The Raiders win their first AFC West title since 1990 with a 52-9 thumping of Carolina at the Coliseum on Dec, 24, 2000. Oakland needed a tie or victory to finish first in the division and clinch homefield advantage for at least a divisional-round playoff game. The Raiders respond with a dominating performance as Rich Gannon throws for five touchdowns -- two each to tight ends Rickey Dudley and Jeremy Brigham. Leading 24-9, Oakland scores 14 points in 57 seconds early in the second half. Gannon hits Dudley for a 21-yard score after the Raiders recover a fumble by Carolina quarterback Steve Buerlein. Two plays later, cornerback Eric Allen returns a Buerlein interception 37 yards for a touchdown. With 66 yards rushing on 17 carries, Tyrone Wheatley (top) becomes the seventh Raider to reach the 1,000-yard plateau in a season.

Quarterback Rich Gannon elevates the Raiders to Super Bowl contender. He throws for 3,430 yards and 28 touchdowns (fourth highest in team history). He becomes only the second Raiders quarterback to be named to the Pro Bowl in successive seasons (Ken "The Snake" Stabler accomplished the feat in 1976-77). Gannon finishes fourth in NFL MVP voting.

Rookie Shane Lechler emerges as one of the NFL's elite punters. He finishes first in the league in net average (38.0 yards) and second in gross average (44.5). He has five punts of 60 yards or longer, including a 69-yarder against Cleveland on Sept. 24. Lechler, a fifth-round draft choice from Texas A&M, breaks Ray Guy's club season record for punting average (45.9 yards to 45.3). Guy set the previous record in 1973. Lechler is one of two Raiders (Rich Gannon is the other) named to the 2000 Associated Press All-Pro team.

Tim Brown catches a 31-yard touchdown pass from Rich Gannon with 4:45 left in overtime to give Oakland a wild 34-28 victory at San Francisco on Oct. 8, 2000. The Raiders drive 84 yards for the winning points after Oakland's Anthony Dorsett blocks a 29-yard field goal attempt by San Francisco's Wade Richey. The Bay Area rivals combine for 62 points, 943 total yards and 23 penalties. Gannon accounts 395 total yards (310 passing, 85 rushing), while the 49ers' Jeff Garcia throws for 336 yards and four touchdowns. The 49ers erase a 28-14 deficit in the fourth quarter on Garcia touchdowns passes to Terrell Owens and Charlie Garner. Oakland's Sebastian Janikowski is wide left on a 35-yard field goal attempt 3:11 into overtime. Said Raiders defensive tackle Darrell Russell: "It was a fight. It was San Francisco vs. Oakland. The only thing keeping us away from each other is the bridge. We all wanted to get after it."
Biggest Disappointments


Baltimore defeats the Raiders 16-3 in the 2000 AFC Championship Game at Oakland on Jan. 14, 2001. The wild-card Ravens force five turnovers, get four sacks and stop the Raiders on 12 of 14 third-down plays. Oakland gains only 24 yards rushing and 191 total yards, both season lows. The Raiders averaged a league-high 154.4 yards rushing in the regular season. The game turns on two consecutive scrimmage plays early in the second quarter. Baltimore takes a 6-0 lead on Trent Dilfer's 96-yard touchdown pass to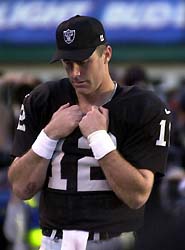 tight end Shannon Sharpe on third-and-18. Following the kickoff, Oakland quarterback Rich Gannon (right) suffers a separated left shoulder when he is slammed to the turf by Baltimore defensive tackle Tony Siragusa after an incomplete pass. Bobby Hoying, who replaces Gannon, sets up a Baltimore field goal when he throws an interception on his first pass attempt. Gannon returns to start the second half, but his passing accuracy is affected by the injury. Before being replaced midway in the fourth quarter, Gannon completes 11 of 21 passes for 80 yards and two interceptions. He also loses a fumble. Hoying hits on eight of 16 attempts for 107 yards and two interceptions. "Had I been healthy I don't know if it would have made a difference today," Gannon tells reporters afterward. "They're a good football team. They pretty much shut us down." Matt Stover kicks field goals of 31, 28 and 21 yards to help the Ravens win their 10th straight game and advance to Super Bowl XXXV. Sebastian Janikowski has a 24-yard field goal for Oakland. It's the first AFC title game at Oakland since 1976, when the Raiders beat Pittsburgh 24-7.

Denver sweeps the Raiders for the third straight year and five of the past six seasons. The Broncos win 33-24 at Oakland in Week 3 as former Raider Joe Nedney kicks four field goals for Denver. On a snowy Monday night at Mile High Stadium in Week 11, Jason Elam kicks a 41-yard field goal as time expires to give the Broncos a 27-24 victory over Oakland. Denver's Brian Griese, despite playing with a separated right shoulder, completes 17 of 22 passes for 177 yards in the second half. Afer Rich Gannon's 22-yard touchdown pass to Tim Brown rallies the Raiders to a 24-24 tie, Griese moves the Broncos 44 yards in 62 seconds to set up Elam's dramatic kick. Said Oakland cornerback Charles Woodson afterward: "I don't know what it is about those guys, but they just keep whipping our (expletive). It's beyond frustrating." The Raiders have dropped seven straight and 11 of 12 games to the Broncos.

There are two sides to Sebastian Janikowski's rookie season. The Polish Cannon finishes strong by hitting 19 of his final 23 field goal attempts (including 3-for-4 in the playoffs). Yet, his kickoffs are erratic and he opens the season by missing seven of his first 13 field goal tries. He ranks 27th in NFL field goal accuracy (making 22 of 32 attempts for 68.8 percent). Janikowski wins two games with last-minute kicks at Kansas City and San Diego. He ties team records for most field goals in a game (five) and longest field goal (54 yards), both against San Diego on Oct. 29.

Playing their final game at Three Rivers Stadium and first at Pittsburgh in 20 years, the Raiders suffer a 21-20 loss to the Steelers on Dec. 3, 2000. Kordell Stewart throws for two touchdowns and runs for another as Pittsburgh overcomes a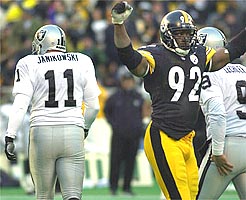 17-7 halftime deficit. Stewart's 17-yard touchdown run on the second play of the fourth quarter gives the revved-up Steelers a 20-17 advantage. The Raiders' Sebastian Janikowski (right) makes field goals of 40 and 42 yards, but he's wide to the left and short on a 42-yard attempt with 3:59 remaining. With the Steelers leading 21-20, Rich Gannon drives Oakland to the Pittsburgh 41 before his fourth-down pass falls incomplete in the waning seconds. The Steelers beat Oakland at Pittsburgh for the first time in the regular season since 1972.

Enigmatic tight end Rickey Dudley has an NFL-career low 29 receptions for 305 yards and four touchdowns. He has two or fewer catches in 12 of 16 regular-season games. Dudley had 34 catches and a team-high nine TDs in 1999. Throughout his five-year career with Oakland, the former Ohio State star has been plagued by dropped passes.

Roll Call


Most Valuable Player

You can't judge Rich Gannon's value on passing and rushing statistics alone. The 13-year veteran is a master at breaking down a defense as a play evolves. While his critics complain about his side-arm throwing delivery, Gannon simply finds ways to win. In the 2000 season, he sets career highs for touchdown passes (28), rushing yards (529), longest touchdown reception (82 yards to James Jett vs. Atlanta) and single-game touchdown passes (5 vs. Carolina). Gannon has quarterbacked the Raiders to a 20-12 regular-season record the past two years.

Special Assistant

First-year assistant coach Bob Casullo does wonders with Oakland's special teams. Shane Lechler is the Raiders' best punter since the Ray Guy era, and David Dunn improves the kickoff returns. The coverage units, sparked by rookies Eric Johnson and Brandon Jennings, ranks among the league's best. Before Casullo arrived in Oakland, the play of Raiders special teams ranged from erratic to abysmal the previous three seasons.

People's Choice

Andre Rison emerges as the long-awaited complementary receiver for Tim Brown. Playing his first regular-season game for Oakland, Rison catches a 10-yard touchdown pass from Rich Gannon with 2:37 left to give the Raiders a come-from-behind 9-6 win over San Diego in the 2000 season opener. The 12-year veteran is an instant hit with the Coliseum fans -- many of whom no doubt loathed him during his days in Kansas City. The Raiders quickly sign Spiderman after he's cut in training camp by the Chiefs. Rison contributes 41 receptions (second on the team behind Brown's 76 catches) for 606 yards and six touchdowns. He becomes the 17th player in league history to reach 10,000 yards receiving.

King of Thieves

Cornerback Eric Allen and linebacker William Thomas each make six interceptions. Allen returns three interceptions for scores and Thomas finds the end zone once.

Spitting Mad

Defensive end Regan Upshaw is fined one game check (approximately $29,412) by the NFL for spitting in the face of Pittsburgh

punter Josh Miller on Dec. 3, 2000. "This is an unprecedented amount to fine somebody," Upshaw (right) tells reporters following the league's announcement of the fine. "I admit what I did was wrong. To get fined $30,000, I don't understand it." Denver linebacker Bill Romanowski was fined $7,500 for spitting on 49ers wide receiver J.J. Stokes on Dec. 13, 1997. According to the NFL, the league's competition committee established stronger penalties for similar transgressions before the start of the 2000 season. Said Raiders coach Jon Gruden: "It was an embarrassing incident. Regan is remorseful about it. The big thing is this has been dealt with now." Upshaw was fined $7,500 for a late hit on San Diego's Ryan Leaf in the season opener.

Block Party

Guards Steve Wisniewski and Mo Collins, center Barret Robbins and tackles Lincoln Kennedy and Barry Sims combine to give the Raiders one of their best offensive line performances in a decade. Oakland ranks first in the league in rushing (154.4 yards per game) and it allows only 28 sacks -- the fewest surrendered in franhcise history for a 16-game season. The previous mark was 29 set in 1990. In 1997, the year before Jon Gruden takes over as head coach, the Raiders allow 58 sacks.

Fast Facts
The Raiders have their first 12-win regular season since 1990.
---
Oakland sweeps Kansas City for the first time since 1978. The Raiders were 3-17 vs. the Chiefs during the 1990s.
---
Rookie kicker Sebastien Janikowski ranks fifth in AFC scoring with 112 points -- the third-highest point total by a Raiders player in 18 seasons. Kicker Jeff Jaeger had 132 points in 1993 and 116 in '91.
---
Wide receiver Tim Brown has a career-high 11 touchdown receptions, breaking his previous standard of 10 set in 1995.
---
Oakland and Tampa Bay tie for third in NFL turnover ratio with a +17. The Raiders are 12-0 record when they have fewer turnovers than the opposition. They are 0-4 when they lose the turnover battle.
---
The Raiders are 7-1 at Network Associates Coliseum, equaling the franchise's best regular-season home record since 1985. The Raiders went 9-0 (including two playoff victories) at home in 1976 en route to a Super Bowl title.

Parting Shot
Keep a watch on the continuing soap opera between Raiders coach Jon Gruden and team owner Al Davis. Without a peep, the team exercised the two-year option on the three-year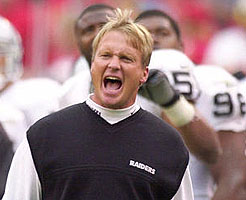 contract the former Philadelphia Eagles offensive coordinator signed with Oakland in 1998. Gruden (left) broke the news of his new deal to reporters the day after the Raiders lost to Baltimore in the 2000 AFC Championship game. There was no announcement from the team on the contract extension, no praise from Davis or senior assistant Bruce Allen on Gruden's role in elevating the Raiders to Super Bowl contender for public consumption. While the new deal reportedly almost doubles Gruden's salary to $1.2 million annually, he still earns modest wages on the NFL pay scale. There are other reasons for Gruden to be annoyed with the Raiders. Davis has a reputation for meddling with his coaches, and the franchise has an uncertain future in Oakland. When Gruden joined the team, he was an unproven NFL head coach. Three years later, he has marquee appeal and a glittering resume. And Gruden might decide he doesn't need the aggravation that comes with working for Davis.
THE LAST WORDS:
"The one thing we have going for us is we have a lot of chemistry on our team and we have a lot of guys who really care about each other. That goes a long way. We need to build on that and just stick together, and we got to get it done."
Raiders WR Tim Brown
---
Photos captions/credits:


Tyrone Wheatley races 80 yards for a touchdown.

Tory James returns an interception 90 yards for a touchdown.

Rich Gannon stands on the sideline
dejectedly during the AFC title game.

Sebastain Janikowski walks off the field
after missing a field goal vs. Pittsburgh.

Jon Gruden being ... Jon Gruden
Game photos by The Associated Press
Regan Upshaw mug by NFL.com
Updated: 2-20-2001
OAKLAND RAIDERS RAP
Archives | Court | Home | Links | Schedule | Tickets